ALDKitchen Italian Melting Chocolate | Resealable Pack | 5 Lbs | non-GMO | Dark
Premium Italian Melting Chocolate
Our candy melts are made of premium Italian chocolate. These melting wafers are perfect for a chocolate fountain and various desserts. Always fresh and delicious, these melts are produced from only natural ingredients and contain no GMO, trans fats or chemicals.
Highest Quality Melting Wafers
Irresistible taste
These milk chocolate melting wafers have the perfect smooth consistency and rich flavor. Our chocolate for melting features bright notes with a gentle bitterness and a balanced finish.
Always fresh
The melts are sold in a certified resealable zipper pack. The pack is waterproof, which helps to protect chocolate from moisture, gas, and odor. So, the melts remain fresh for a long time.
For all needs
Whether you're a professional baker or just a chocolate lover, our melting chocolate wafers is a great choice for baking and cooking heavenly treats such as a cake pop, strawberries, hot chocolate bombs, etc.
SPECS: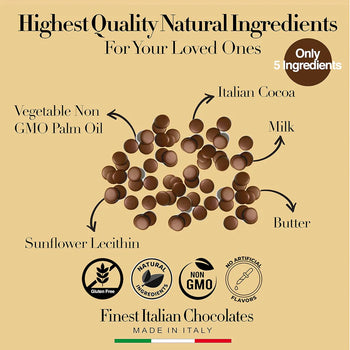 shipping weigh:

5 Lbs

ingredients:

NON GMO Vegetable Oil , Natural Aroma, Italian Cacao, Milk and Butter

diet type:

Gluten Free
Reviews and Questions