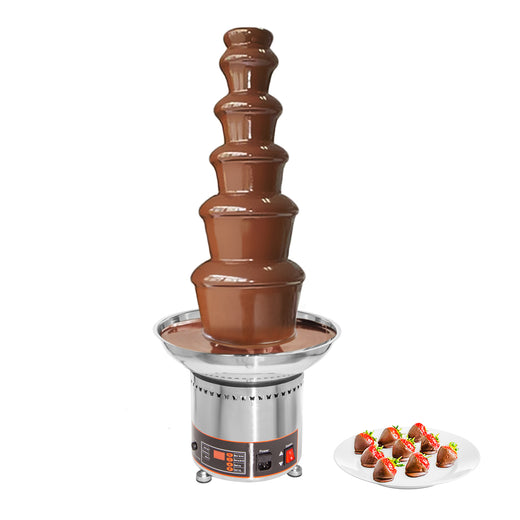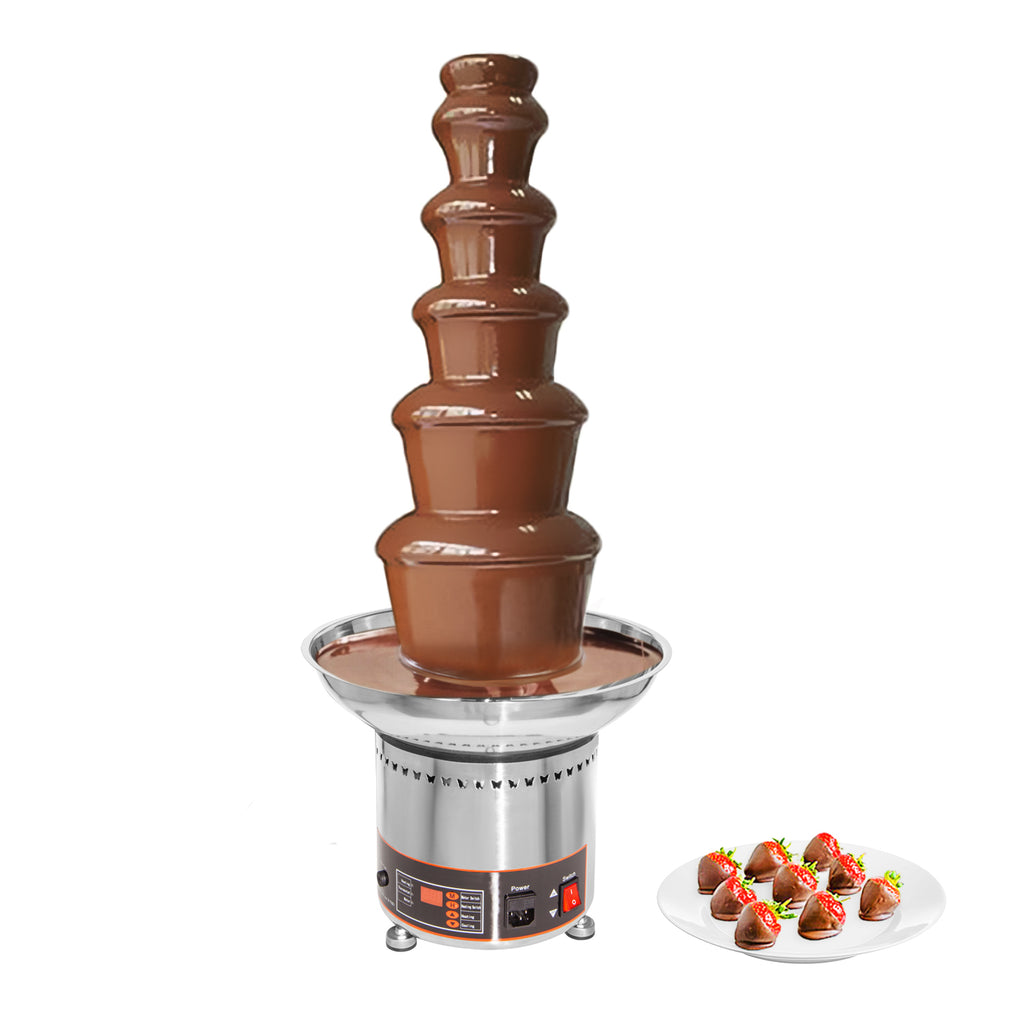 A-CF6D Chocolate Fountain | 6-Tier Fondue Fountain with Digital Control | 110V
Chocolate Fondue Fountain with Digital Control
A fondue fountain with 6 tiers is suitable for melting up to 13 lbs (6 kg) of chocolate. The temperature range is 30-110℃ (86-230℉). Digital control ensures precise temperature set up and easy operations. The appliance is made of 304 stainless steel, durable and safe to use with food.
6-Tier Chocolate Fountain for Home and Business
Separate switches
This chocolate fondue fountain has separate switches for the motor and the heating element so that you can melt the chocolate first before you switch the motor and start continuous chocolate flow.
Important details
Non-slip silicone feet make it possible to set the fountain even if the tabletop is uneven. The rubber sealing ring ensures that there is no chocolate leakage. Six tiers create a beautiful waterfall effect.
Easy to maintain
Such details as tower, tray and screw rod can be disassembled for easy cleaning. When taken apart, the fountain takes little storage space. The machine serves long and requires little effort to maintain.
✪ EASY DISMANTLING: the machine can be easily taken apart for cleaning and storing while not in use

✪ COOLING VENTS: small butterfly-shaped cooling holes around the body provide heat dissipation

✪ USER-FRIENDLY: start the machine with a switch and adjust the heating level on the digital control panel

✪ LARGE TRAY: wide tray allows you to meet the needs of many guests; pretty convenient to dip food
SPECS:
model:

A-CF6D

machine size:

32.3" x 14.2" x 14.2"

material:

Stainless steel

voltage:

110V

shipping weigh:

18 lbs

machine weight:

18 lbs

control type:

Digital

temperature range:

32-230℉

materials:

Stainless steel

power kw amp :

0.3 W (2.7 amp)

tiers:

6 tiers

capacity:

13 lbs
Reviews and Questions