AC_1010 Pancake Batter Dispenser | Funnel Dispenser with Stand | 3 Nozzles

An essential baking tool for any kitchen
A stainless-steel funnel dough dispenser with 3 interchangeable nozzles is an indispensable tool for both commercial and home kitchens. Batter distribution and cakes decoration will become so much easy and more enjoyable!
Facilitate your baking process!
Versatile use
Apart from the dough, this dispenser can be used to distribute other liquid ingredients, both savory and sweet. For example, honey, chocolate, salad seasoning, etc.
Perfect distribution
Change the nozzles depending on your purpose. Use a nozzle with a narrow moth to decorate cakes and other desserts. Wider diameter nozzles will suit better for waffle mixes distribution.
Easy to clean
High-quality materials ensure that this waffle batter dispenser is easy to clean and maintain. The device is suitable for dishwashers, it is rust and corrosion resistant, which makes it serve for years.
Take a closer look at these details:
✪ SET OF NOZZLES: three nozzles of different diameters ensure multi-functional use of the device

✪ ONE PRESS: to distribute some dough or other liquid, it is enough to simply press a lever arm on the top

✪ STAINLESS-STEEL STAND: a handy small stand significantly facilitates the usage of this dough pourer

✪ LEAK-FREE: a tiny stainless-steel plug tightly closes the dispenser spout to prevent leakage
SPECS: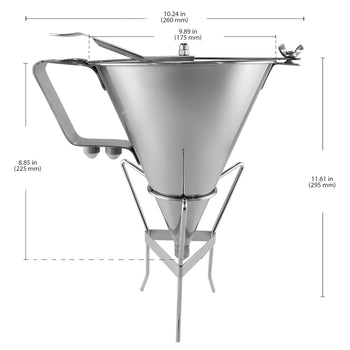 model:

AC_1010

machine size:

funnel diameter: 175 mm (9.89") tall: 225 mm (8.85") tall with the stand: 295 mm (11.61")

material:

stainless steel

machine weight:

1 kg (2 lbs)
Reviews and Questions