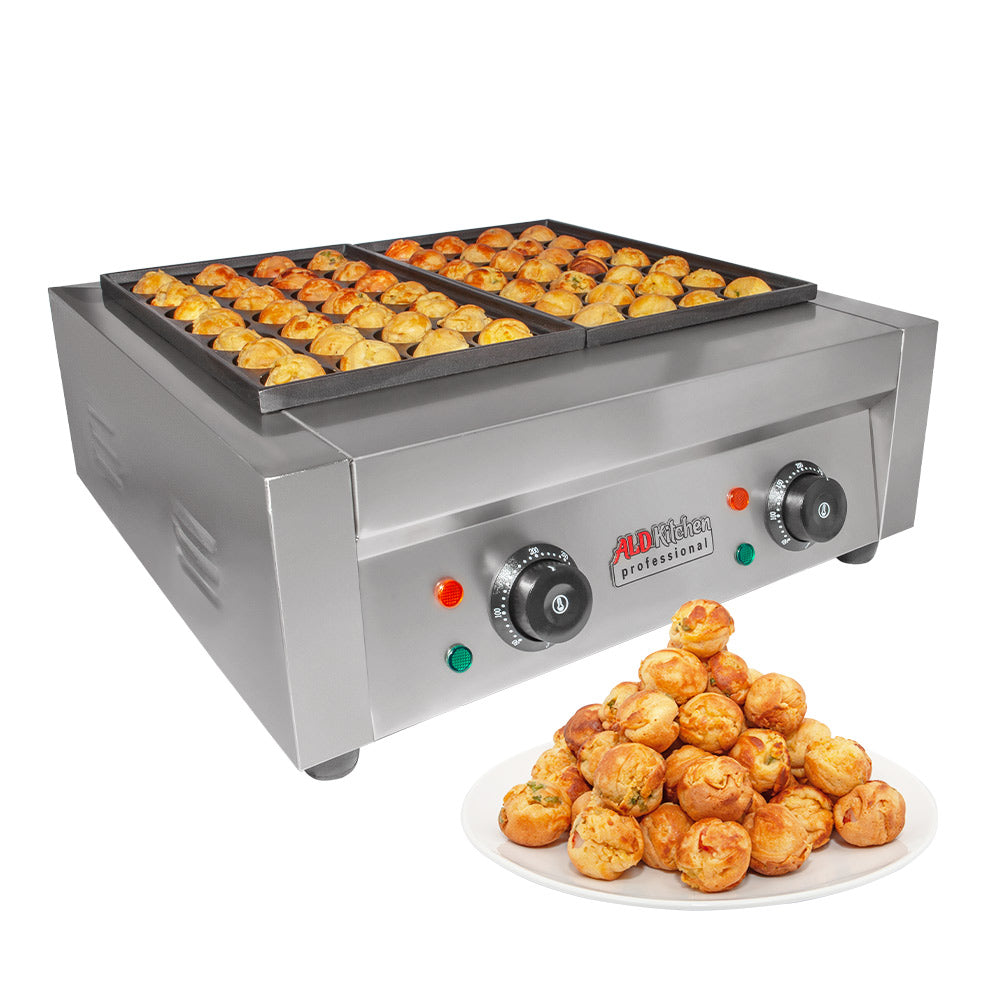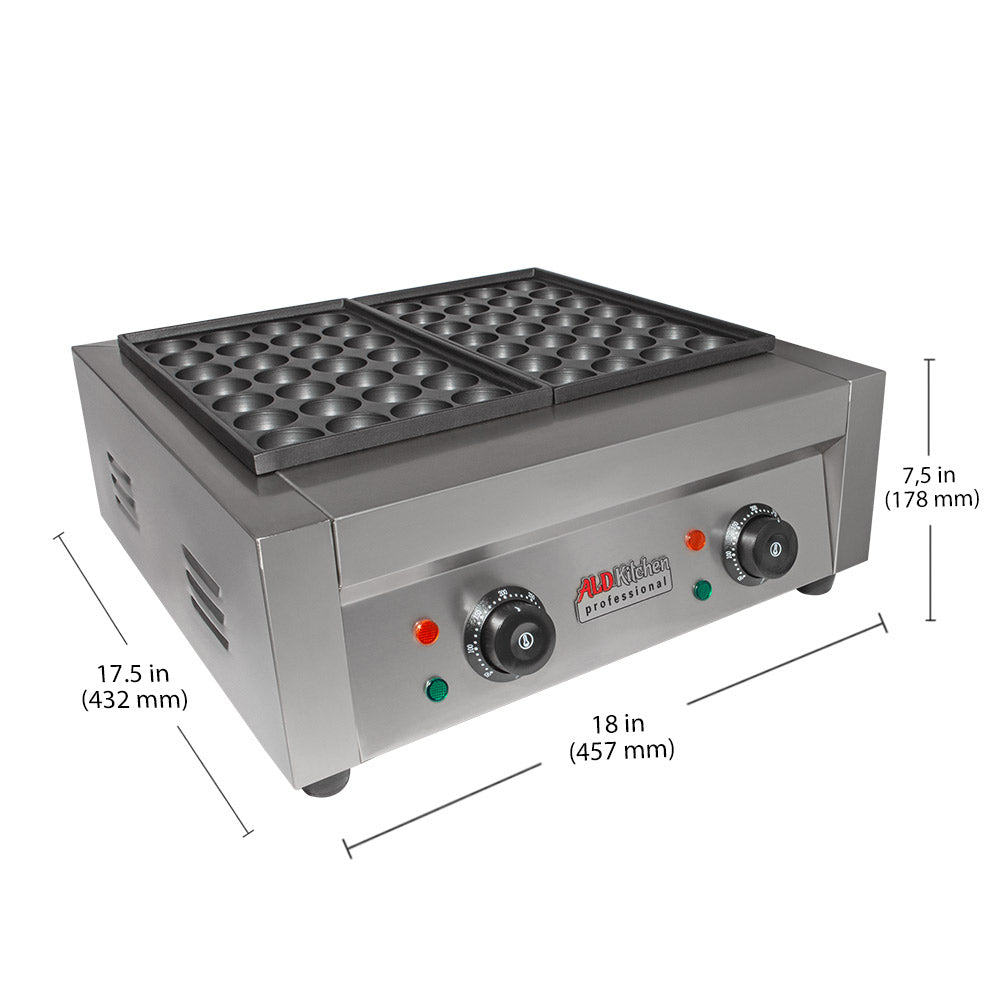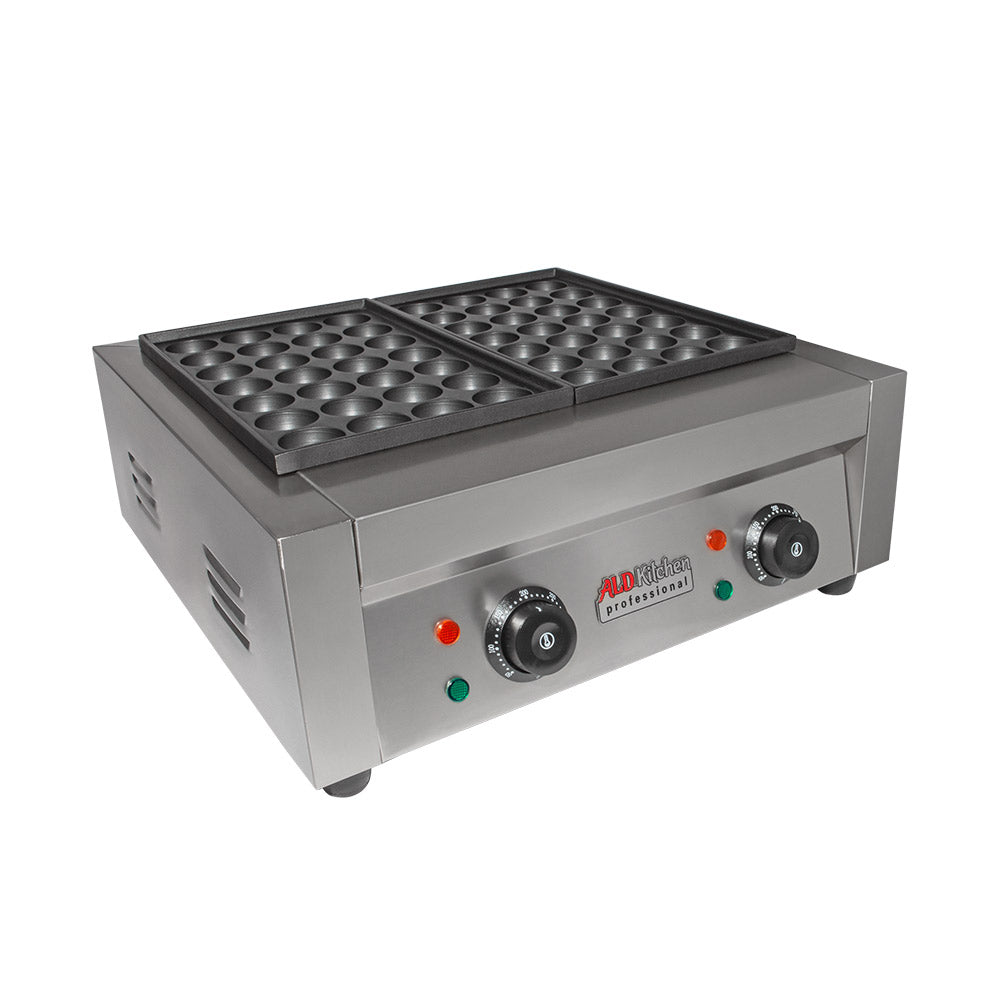 A-T607 Double Takoyaki Grill | Electric Takoyaki Machine | 56 Pcs | Nonstick | Stainless Steel | 110V
Takoyaki Machine with a double pan
This commercial takoyaki maker cooks 56 pieces, which is twice more than regular takoyaki machine. Each pan is equipped with a temperature control, so it is possible to use either both or just one pan at a time. The baking molds are made of aluminum with a nonstick coating.
A few reasons to buy this Takoyaki maker
Extended capacity
The machine is equipped with two baking plates that are able to cook 56 takoyaki balls it total. That helps to serve more portions of this popular Japanese snack in a shorter time. You may use only one pan if just a small amount of takoyaki needed – each pan can be heated independently.
Various use
Except famous Japanese snack, which this machine is designed for, it can cook meat balls, quail eggs, etc. After preparing delicious takoyaki enhance their taste with a topping at your customers taste. Due to small size of this snack, it is pretty convenient to eat on the go.
High-quality materials
The appliance is produced of stainless steel, known for its durability. With a proper maintenance, it can serve for years. The baking plates are made of aluminum with nonstick top, which significantly lowers the risks of dough to be stick to the molds and ensures washing to be easy.
Take a Closer Look At This Takoyaki!
✪ TWICE MORE: with two baking pans this machine cooks more takoyaki, increasing turnover

✪ STABLE CONSTRUCTION: the machine is equipped with tiny rubber feet, which keep it stable

✪ GREAT SNACK: takoyaki can serve as a snack between meals and they are easy to takeaway

✪ FAST COOKING: wide temperature range allows to cook a bunch of takoyaki in a few minutes
SPECS: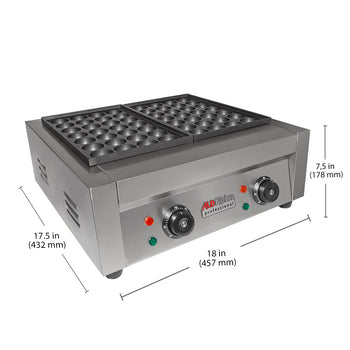 model:

A-T607

machine size:

17.5" x 18.0" x 7.5"

material:

Stainless Steel

voltage:

110V

shipping weigh:

23.0 lb

control type:

Manual

temperature range:

122 - 572 °F

power kw amp :

4 kW (36.4 Amp)

product size:

1.5"

productivity:

56 Pcs
Reviews and Questions