GR-V100 Grain Mill Commercial | Electric Wheat Grinder | 100g | Spices and Herbs| Stainless Steel | 110V
High-speed wheat grinder for versatile use
With its moderate capacity of 100 grams, this mill grinder is the perfect solution for a small business or home use. The machine is suitable for any type of herbs, grains, spices, and seeds. Due to a high-speed motor, a fresh flavored powder will be ready in less than a minute.
See why this wheat grinder is worth considering!
Beautiful design
The machine is lightweight, small, and nicely designed. It is easy to transport and store in the kitchen. All the details are aimed to make the usage of this kitchen appliance hassle-free and enjoyable.
Various mixtures
Besides grinding different seeds, grains, or spices in this pulverizer, you can also combine them to receive fresh mixtures for particular dishes. Be aware that oily or humid raw materials cannot be ground into powder.
Healthy product
Thanks to its high-speed motor, the machine make flavored powders in a short time, usually less than a minute. The final product keeps all the vitamins and nutritional elements.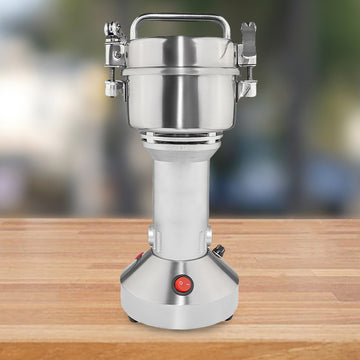 Look at other advantages of this mill grinder!
✪ FULL SET: the grinder comes with all the accessorize needed for comfortable and efficient work

✪ NO POWDER LEAK: the lid fastens tightly providing strong sealing and minimizing the leak risk

✪ OVERLOAD PROTECTOR: the machine is featured with an overload protection system, making the usage safe

✪ OVERLOAD PROTECTOR: the machine is featured with an overload protection system, making the usage safe
SPECS:
model:

GR-V100

package size:

14" x 8" x 8"

machine size:

12,62" x 6"

material:

Full stainless steel

voltage:

110V

shipping weigh:

5.0 lbs

machine weight:

3.0 lbs

body type:

Vertical type

speed:

25000r/min

power kw amp :

750W (6.8 Amp)

capacity:

100 gr

timer setting scope:

5 mins
Reviews and Questions