AP-94 Tart Shell Maker Commercial | Mini Pizzas Maker | 4 PCS | 110V
Tartlet shells maker for commercial purposes
This professional appliance is designed to make four tartlet shells, which can be used to make both savory snacks or sweet treats. The machine is featured with nonstick-covered plates and comes with precise temperature control, which ensures that tartlets don't burn and stick.
Why is it worth to have a tartlet shell maker?
For any occasion
A tartlet shell with nutritive filling is suitable for any occasion. You may serve it as a snack for those who want to grab a bite on the go. Also, it is perfect for a dinner party, a family reunion, or other events.
Sweet and savory
Tartlet shells can be filled with anything you and your customers prefer. Put some cheese, meat, fish, or mushroom for a nutritive snack. If you need to make a dessert, add berries, cream, caramel, chocolate, etc.
Makes mini pizzas
With this professional machine, you can even make mini pizzas. Just pour the dough, put all the ingredients, adjust the temperature, and close the lid. Your mini pizzas will be ready in a few minutes.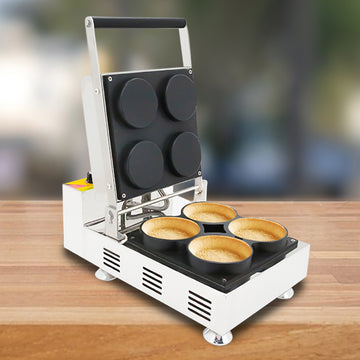 Convenient snack maker:
✪ NO OVERHEAT: because of cooling holes on both sides, the machine is well ventilated

✪ PLASTIC HANDLE: the lid is easy to pull up and down with a convenient wide handle

✪ HEAT CONTROL: precise temperature control allows setting the heat level and tartlet color

✪ STRONG FEET: four tiny feet keep the machine stable on the tabletop and easy to lift if needed
SPECS:
model:

AP-94

package size:

20" x 11" x 9"

machine size:

18.5" x 9.84" x 7.87"

material:

Stainless steel

voltage:

110V

shipping weigh:

29 lbs

machine weight:

22 lbs

heating plate:

Nonstick

control type:

Manual

power kw amp :

1.6 kW (14.5 Amp)

no of products:

4

product size:

3.86" x 0.6"
Reviews and Questions