A-WFA3000 Juicer Machine | Fruit and Vegetables Juice Maker | Stainless Steel Blades | Commercial Juice Extractor | 110V
Professional juice machine for refreshing drinks
To make a fresh fruit or vegetable juice within a few minutes is easy with this juice maker. The processing speed of this device makes it suitable for high capacities, which is perfect for such commercial places like restaurants, hotels, street food points, etc. The die-cast metal body of the machine looks great in any kitchen.
A few reasons to purchase this fresh juices maker
Fast production
This juice extractor immediately separates the juice from the pulp, which is thrown out of the machine directly. That means you don't have to stop juice production until you get the right amount.
High-quality materials
The machine has a die-cast aluminum body and stainless steel blades. All the materials are food-grade and non-toxic. Moreover, the device is easy to clean with water. Just make sure you do it immediately after squeezing is finished.
Commercial use ready
Natural juice is an excellent choice at any time of the day. It is tasty, refreshing, and healthier than many other beverages. These features make this device perfect for such places as health clubs, spas, and juice bars.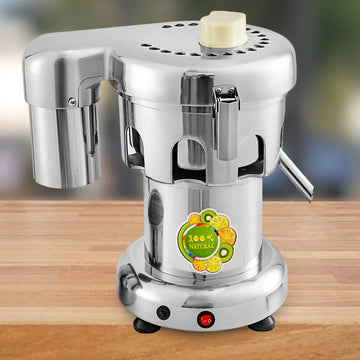 Look at more details of this juice maker!
✪ STRONG CLASPS: metal clasps safely fix the lid and easily open after the usage

✪ STRONG CLASPS: metal clasps safely fix the lid and easily open after the usage

✪ ADJUSTABLE SPOUT: change the spout position to the most convenient

✪ EASY CLEANING: after usage, disassemble the device to clean it with water
SPECS:
model:

A-WFA3000

package size:

17.3" x 14.6" x 11.8"

machine size:

16" x 13.5" x 10.5"

material:

Full stainless steel

voltage:

110V

shipping weigh:

28.6 lbs

machine weight:

26.5 lbs

speed:

2800r/min

power kw amp :

370W (3.4 Amp)

productivity:

up to 3 1/4 quarts per minute
Reviews and Questions