A-FYDT24 Potato Slicer | Electric Tornado Slicer | Twister Potato Cutter | 110V
Electric Potato Spiral & Twister Slicer
This electric slicer is designed to make potato chips or spiral potatoes on a stick. The device is perfect to sell snacks both indoors and outdoors. This machine can also be used to make snacks of other vegetables, such as cucumber, zucchini, carrots, etc.
A few reasons to purchase this spiral vegetable cutter:
Various snacks
With this tornado slicer, it is possible to make snacks of potatoes and other vegetables. To enhance the taste of your snacks, add different flavors and spices while frying.
Part of a meal
Twisted potatoes and other vegetables can be used also as a part of a meal, which makes it convenient to have the machine in a restaurant or a café. Add potato chips to meat, vegetable salad or other dishes.
Cheap & tasty
As the cost of the snack is quite low, tornado potatoes are loved by people. Apart from having the economic advantage, such snacks are nutritious, delicious, and easy to take away.
Take a closer look at this tornado slicer!
✪ EASY OPERATIONS: start and stop this electric machine with just one three-gear switch

✪ DURABLE BLADE: high-quality stainless-steel blade is durable and safe to be used with food

✪ FIXING PINS: four pins on a twisting axis firmly fix potatoes and other snacks while processing

✪ BACK & FORWARD: the rotary axis automatically moves both directions at the touch of the switch
SPECS: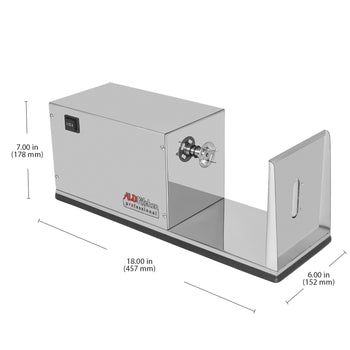 model:

A-FYDT24

package size:

19" x 8" x 7"

machine size:

7" x 18" x 6"

material:

Full stainless steel

voltage:

110V

shipping weigh:

13.2 lbs

machine weight:

11.0 lb

speed:

90 runs/min

power kw amp :

10 W (0.1 Amp)

product size:

Cuts spirals about 1/8" thick
Reviews and Questions