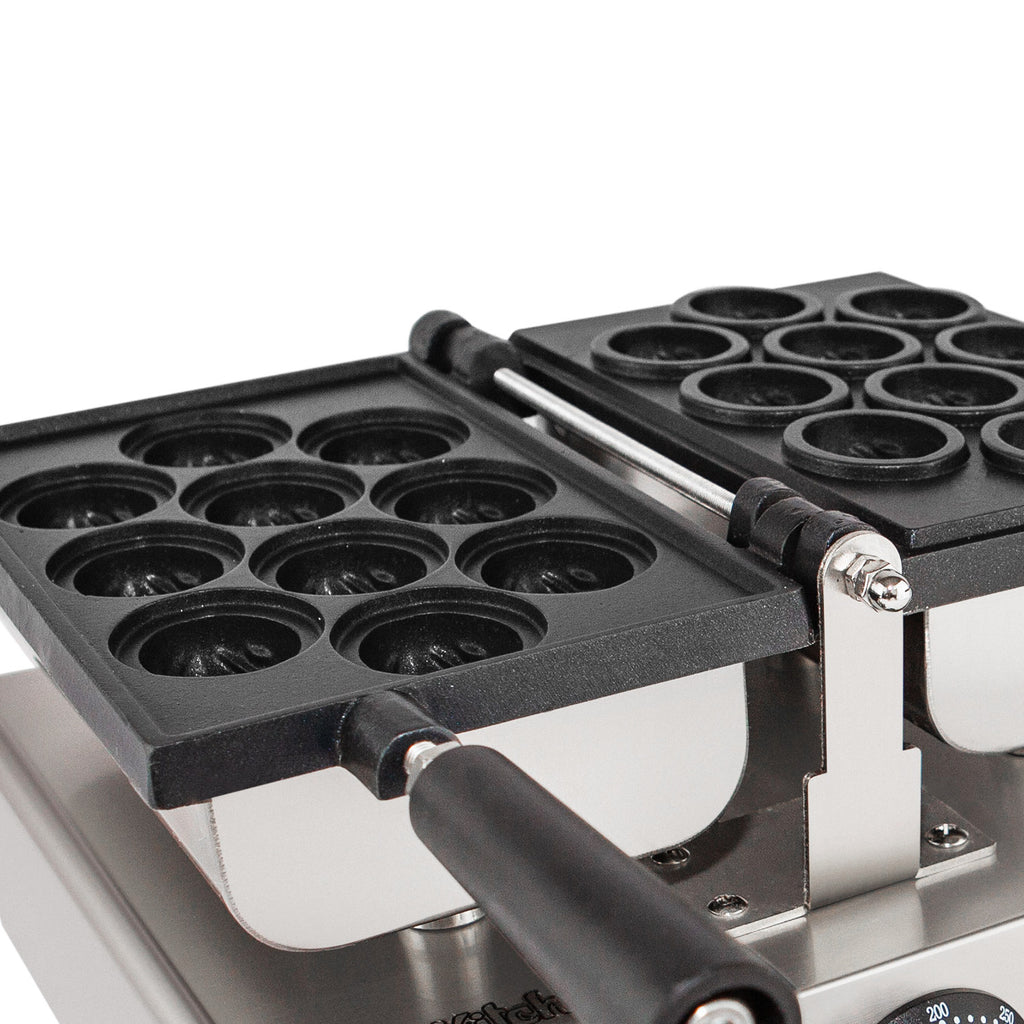 AP-451 Walnut Crisp Maker | Walnut Sweet Cake | 10 Pcs | Nonstick | 110V
Sweet Walnut Cookies Maker
Crispy walnut-shaped biscuits with condensed milk inside are baked within a few minutes with this electric walnut cake machine. Nonstick coating, anti-skid handles, a temperature controlling system – everything is designed to make this professional equipment convenient and easy to use.
Great value for money:
Cost-effective purchase
Given the very affordable price of this kitchen equipment, it will provide you a great return on investment when you start using it for your business. The machine is suitable for hotels, cafes, etc.
Tasty & Healthy product
With a high-quality nonstick coating of the baking molds, you can minimize the amount of oil used for cooking. Still, the walnuts won't stick to the plates, allowing fast and easy cleaning afterward.
Human-oriented design
The machine is operated in a few simple steps that require little time to learn. You can cook perfectly shaped 10 whole walnut cookies in a few minutes. Fill them with condensed milk, caramel or custard.
Look closer at this walnut cookies maker!
✪ SIMPLE USAGE: a temperature controlling system is clear and easy to handle

✪ ANTI SKID HANDLES: turn the plates with comfortable handles that don't overheat

✪ NON-SLIP FEET: the machine is secured on the tabletop with four stable feet

✪ EASY TO MAINTAIN: cleaning requires a minimum of time and efforts
SPECS:
model:

AP-451

machine size:

13" x 14" x 12"

voltage:

110V

shipping weigh:

26 lbs

machine weight:

22 lbs

control type:

Manual

temperature range:

122℉-572℉

materials:

Stainless steel & cast aluminum

power kw amp :

1.5 kW (13.6 Amp)

no of products:

10 pcs
Reviews and Questions
Walnut Waffle Accessories