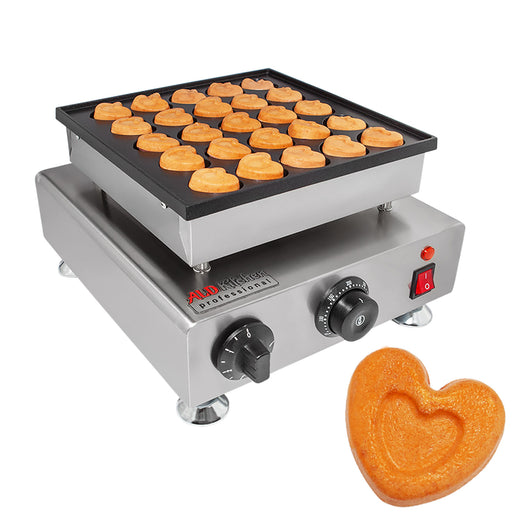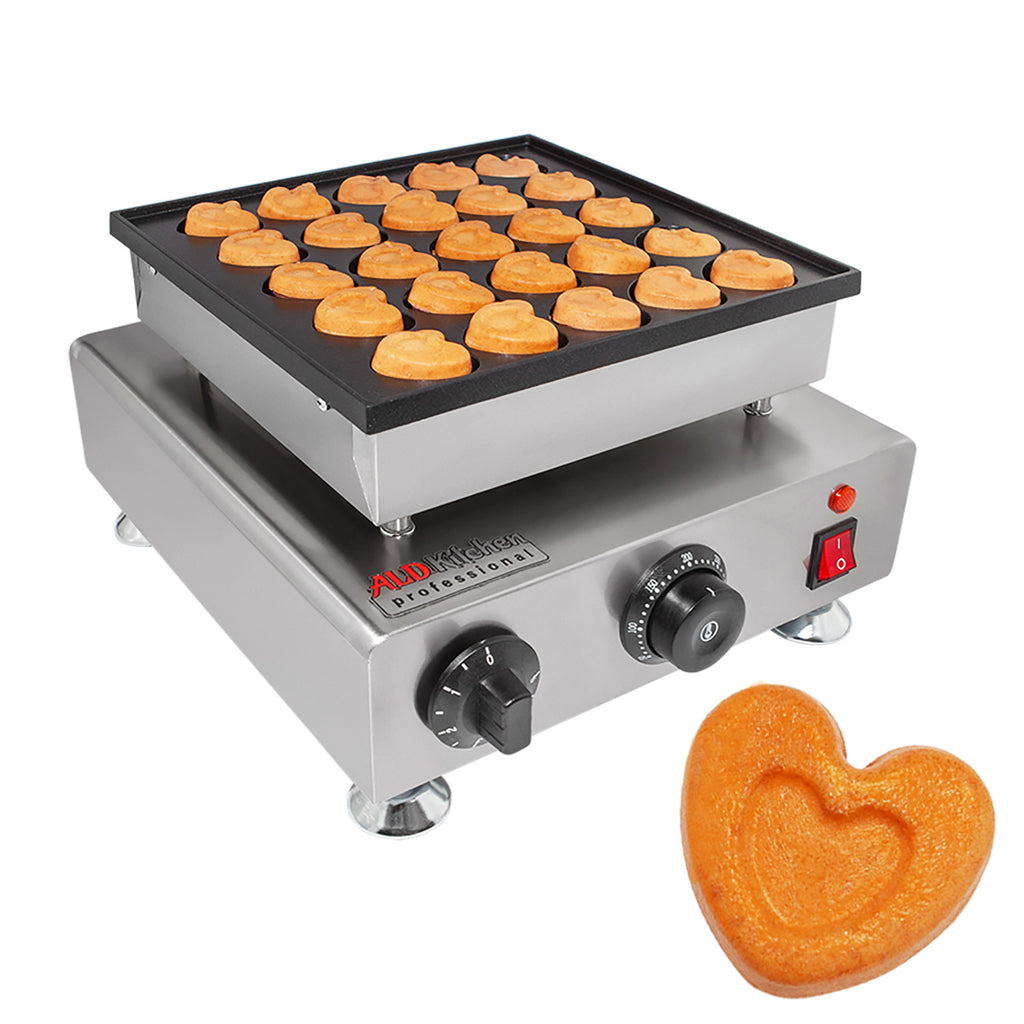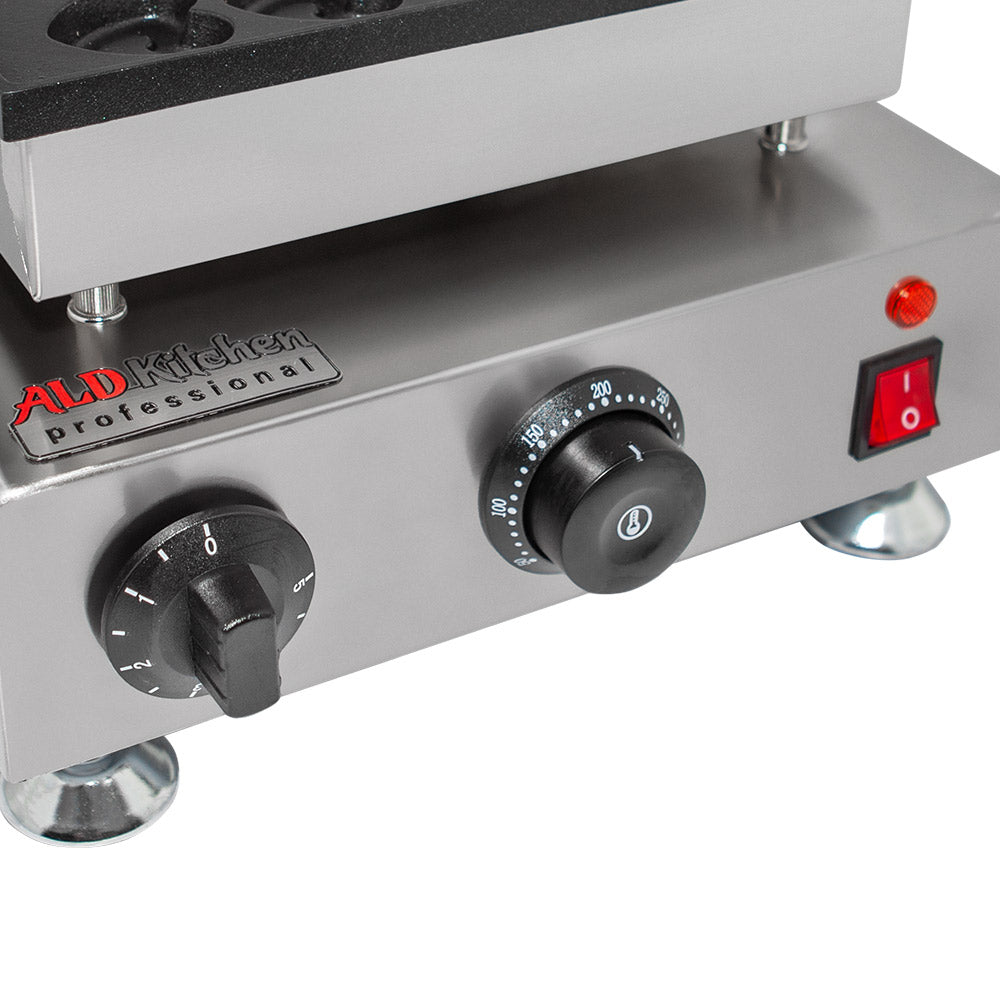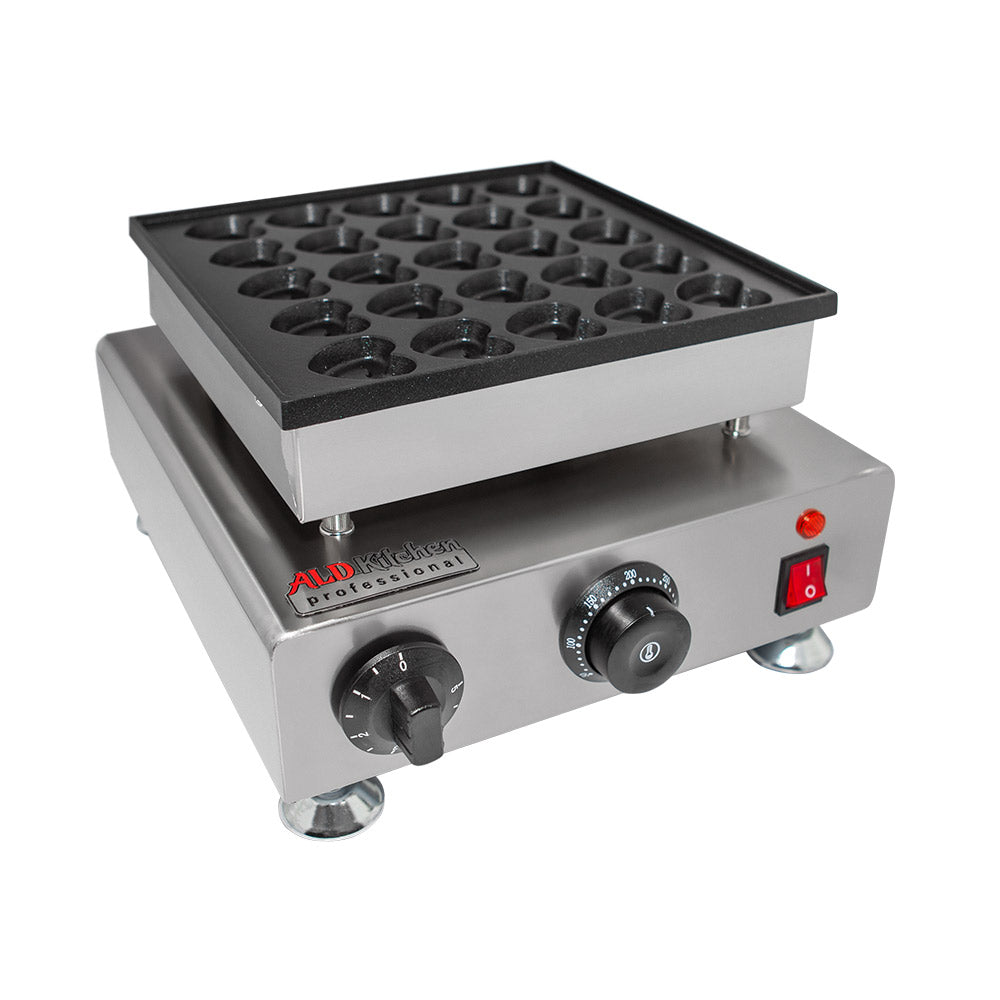 AP-552 Heart-Shaped Poffertjes Maker | Dutch Mini Pancakes for Valentine's Day | Poffertjes Baking Machine | 25 pcs | 110V
Small Dutch Delights Maker
Poffertjes are a traditional Dutch batter treat. Resembling small, fluffy pancakes, they are made with yeast and buckwheat flour. They have a light, spongy texture. Perfect for breakfast or as a snack between meals. Make many at once with professional poffertjes machine.
Convenient Poffertjes Grill Machine
This machine is designed to make plenty of mini pancakes in a few minutes, which makes it easier to serve this snack quickly without making your customers wait. Poffertjes can be eaten on the spot on a plate or taken away in trays.
The appliance can cook 25 heart-shaped Poffertjes simultaneously.
Perfect for open kitchens
Beautiful design of this poffertjes maker perfectly fits for an open kitchen of any café or restaurant. Stainless steel construction with nonstick surface makes this machine easy to operate, be always kept clean and serve longer. The baking molds are made of high grade cast iron with high thermal conductivity. Regulate temperature with adjustable control knob to bake delicious and soft haert-shaped mini pancakes!
Great snack with a light, spongy structure
Poffertjes are traditionally made just like pancakes from wheat flour and buckwheat flour. Unlike with pancakes, yeast is usually used as leavening agent in the batter. In contrast to pancakes, poffertjes are turned over during cooking if the batter has not yet completely solidified. This makes them softer on the inside and they are nicely rounded.
Yummy poffertjes can be served in various ways
Poffertjes can be served with sweet garnishes, such as syrup, whipped cream or strawberries, for added flavour. In the Netherlands, poffertjes are often served as a serving of a dozen on a plate with a knob of butter in the middle and sprinkled with powdered sugar. Variants are available with fruit, ice cream or liqueur such as lawyer. As a street snack, the poffertjes are served on a rectangular cardboard box with a plastic fork.
WHY THIS POFFERTJES MACHINE?
✪ EASY TO OPERATE: Adjustable temperature control knob, on/off switch make this machine as simple to use.

✪ EVEN HEAT: The highly conductive cast iron plate spreads heat evenly, preventing poffertjes from burning

✪ EASILY TRANSPORTABLE: Stable tiny feet help to protect the surface of the table from scratches and makes the machine easy to move

✪ UNIQUE SHAPE: Heart-Shaped mini pancakes are perfect for a romantic birthday breakfast or St. Valentine's day treat
SPECS: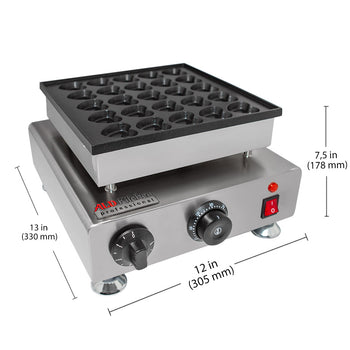 model:

AP-552

machine size:

13" x 12" x 7.5"

material:

Stainless Steel

voltage:

110V

shipping weigh:

15.4 lb

machine weight:

15.4 lb

body type:

Surface

control type:

Manual

temperature range:

120-570°F

materials:

Stainless steel

power kw amp :

800W (7.3 amp)

cooking time:

3 min

product shape:

Heart-shaped

no of products:

25

product size:

1.5" x 1.5"
Reviews and Questions
Poffertjes Accessories