A-TG5LF Churros Machine | Manual Churro Maker with Deep Fryer | Stainless Steel | 5L Capacity | 110V
Professional Churro Maker with a Deep Fryer
Commercial Manual Churro Maker with 5L capacity, L-shape stand, and double deep fryer. Various nozzles for traditional and hollow churros. The stainless steel body looks stylish and elegant.
Why buying this churro maker for your business is worth?
Enjoy beautiful design and smooth operation
Using this churro maker is quite easy and takes little time to master operation. The machine is manually controlled by a triple handle, and ready churros come out vertically directly to the deep fryer. Both the hopper and the deep fryer are installed on an L-shape working stand.
Sell a snack famous around the world
Churro is known as a Spanish snack which became famous far outside the country. People love eating churros on festive days, sharing these moments with friends and families. These sweet delights are connected with happy and bright moments, which makes churros always at high demand.
Make several types of churros
This dessert is commonly served with hot chocolate in a separate bowl. You can also add some jams, ice cream, or other toppings. With a set of nozzles, sold together with the machine, you can make either churro with a topping or a hollow one with filling. The filling can be sweet or savory, depending on your customers' wishes.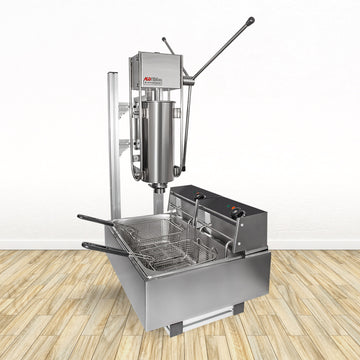 Take a close look at this churro machine!
✪ HEIGHT REGULATION: move the machine up and down the stand to set it up at a convenient height

✪ SET OF NOZZLES: interchangeable nozzles allow to make thick and thin churros of different lengths

✪ HOLLOW CHURROS: with a special nozzle, you can make even hollow churros to fill them later

✪ L-SHAPE STAND: regulate the hopper and the deep fryer on a stand for comfortable work
SPECS: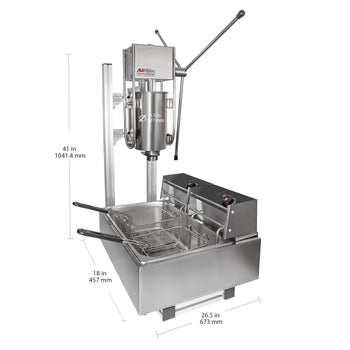 model:

A-TG5LF

package size:

(3 boxes): 18.9" x 14.6" x 10.2"; 36.2" x 7.0" x 13.4"; 22.8" x 18.1" x 12.6"

machine size:

41"x 18"x 26.5"

material:

Full stainless steel

voltage:

110V

shipping weigh:

(3 boxes): 28.7 lbs; 28.7 lbs; 55.1 lbs

no of nuzzles:

5

capacity:

Funnel: 5 L; Fryer: 12 L
Reviews and Questions
Churro Accessories