AP-448 Waffle Stick Maker | 3 Cat Paw-Shaped Waffles | Waffles on a Stick Iron | 110V
Waffle Stick Maker for Commercial Use
This professional electric Waffle Stick Maker cooks three babycakes waffles shaped like cat paws. The power consumption is 1.56kW. The machine is made of 201 Stainless Steel with nonstick-covered baking plates. Perfect for small food&beverage businesses.
Stick Waffle Iron with High Turnover
Looks unusual
If you sell waffles on a stick and wish to vary your menu with something different, cat paws-shaped waffles might be a great solution. Crunchy golden-brown waffles will taste even better with some toppings like chocolate, caramel, maple syrup, etc.
Convenient design
Simple configuration, easy control, and intuitive operation characterize this waffle iron. The cooking process consists of a few steps and isn't challenging at all. Adjust the timer and the heating level to customize your waffles color.
Little maintenance
With proper upkeep, this electric pop waffle maker will serve for years and require little effort to maintain. The machine is easy to clean, it's enough to wipe it with a damp rag after usage. For safety reasons, don't forget to unplug the appliance before cleaning.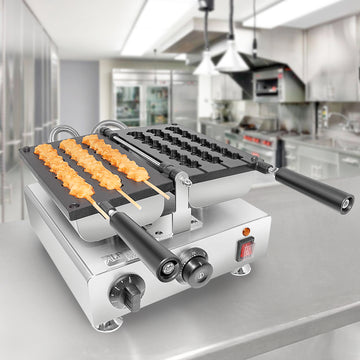 Look at the advantages of this Waffle Maker :
✪ NONSTICK COATING: nonstick covering ensures that the waffle doesn't burn and obtain uniform color

✪ PLASTIC HANDLES: both baking plates are equipped with handles for effortless turning over

✪ LOVELY DESIGN: stick waffles shaped like cat paws will stand out and diversify your menu

✪ USER-FRIENDLY: the machine is manually controlled, the operations are very easy to understand
SPECS: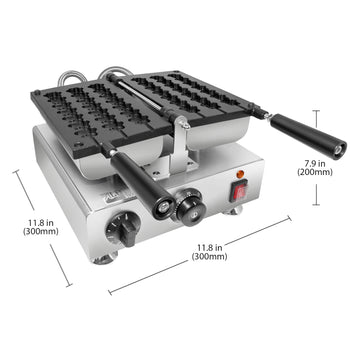 model:

AP-448

package size:

17" x 14" x 10"

machine size:

11.8" x 11.8" x 7.9"

material:

Full stainless steel

voltage:

110V

shipping weigh:

31.0 lbs

machine weight:

26.0 lbs

body type:

Waffle Stick Maker

power kw amp :

1.56 kW (14.2 Amp)

product shape:

cat paw shaped

product size:

7.7" x 1.2" x 0.6"

productivity:

3 waffles
Reviews and Questions
Waffle on a Stick Accessories