Special Offer
A-BW311 Bubble Waffle Maker | Manual Thermostat | Square Shape Egg Waffle Iron | 110V
Make Awesome Square Shaped Waffles in Your Café!
This new professional Bubble Waffler Maker is equipped with the most reliable 360 degrees rotated mechanism and improved thermostat. Manual control and convenient handles made of rigid plastic make this Bubble Waffle Machine easy to use. The waffle size is 8'x8', which is bigger than other machines in our store make. Due to their square shape the waffles are perfect for making waffle cones. These delicious waffles, sometimes called Egg Waffles or Eggettes have crispy golden outsides and light, soft interiors. They are best served hot, and often eaten plain. They can also be served with fruit and flavors such as strawberry, coconut or chocolate.
Trendy Hong Kong Waffle Maker for Any Businesses
Due to its beautiful design this amazing bubble waffle machine is a great solution for any kitchen. With this waffle iron, you can expand a dessert menu of your café or restaurant. This device is also ideal for catering solutions. Your clients will be surprised with incredible puffle egg waffles.
Top-notch quality for longer lifespan
Made from 201 stainless steel grade and equipped by a manual thermostat, this bubble waffle machine will serve you for the years to come. Commercial-use ready, you can use it at home with your family or in your shop, café bar, restaurant with every day higher volume usage.
Unique design for safe and convenient usage
For the convenient and safe usage, the waffle maker equipped with comfortable handles and a three-layer nonstick coating. The baking mold is separated from the machine bottom preventing internal elements from heating.
Three-minute baking for higher productivity
This commercial bubble waffle maker is distinguished by the highest productivity, it takes only 3 minutes to prepare waffles, which significantly reduces the time spent on production, and therefore increases the turnover, the number of served and satisfied customers, and your profit.
WHY THIS BUBBLE WAFFLE MAKER?
✪ NONSTICK COATING – three layers of non-stick coating surface prevent waffles from burning and makes them easy to cook

✪ ALWAYS CLEAN – special plate protects the bottom of the machine from the dough, allowing your waffle maker look perfect

✪ USER-FRIENDLY – manual control with a timer make this machine extremely easy to operate even without experience

✪ SAFE USAGE – The baking mold is separated from the machine bottom preventing internal elements from heating
SPECS: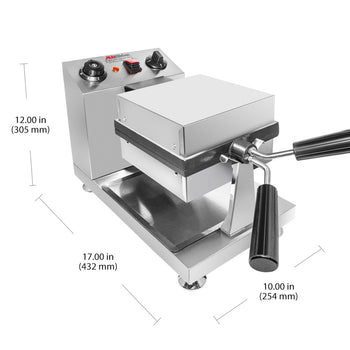 model:

ALD-311

machine size:

17" x 12" x 10"

material:

Stainless steel

voltage:

110V

shipping weigh:

34 lbs

machine weight:

32 lbs

heating type:

Heating tube

control type:

Manual

temperature range:

122 - 572°F

power kw amp :

1.3 kW (11.8 Amp)

cooking time:

about 3 minutes

product shape:

Square

product size:

8" x 8"

capacity:

1 big waffle
Reviews and Questions
Bubble Waffle Accessories