A-BL767 Commercial Blender | 2L | Portable Blender for Smoothies & Cocktails | Stainless Steel Blade | 110V
Waring blender for home and business purposes
Consider this multifunctional professional kitchen blender for home and business use. With its 2-liter capacity, this device is perfect for bars and restaurants, where smoothies and cocktails are served. The blender is lightweight and easily portable, looks nice on a bar counter.
What are the advantages of using this blender?
Endless variety
With this commercial blender, you are not limited to cocktails and soups to cook. Make sauces and salad dressings, smoothies, and juices. With endless possibilities, the machine is a must-have in any kitchen.
Self-cleaning
To clean this waring blender is as easy as ever. Simply pour some water and add a few drops of any dish soap. Start the blender and wait for some time for it to clean itself. Then just rinse the blender with water.
Friction heating
With this machine, it is also possible to make the ingredients hot, provided by blade friction heating. Make a machine work for about 7-10 minutes to get your mixture warm and ready to serve right away.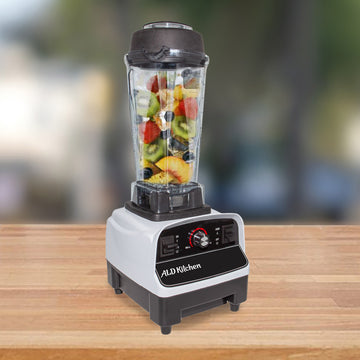 These are the reasons why this blender is so convenient:
✪ ADJUSTABLE SPEED: change the speed of work at any moment to create a texture you need

✪ HANDY TAMPER: a tamper helps to cope with hard blends without need to stop the machine

✪ SECURE PLUG: when a tamper is of no need, the lid safely closes with a transparent plug

✪ LARGE VOLUMES: with 2 L capacity, you can cook several cocktails at the same time
SPECS:
model:

A-BL767

machine size:

8" x 7" x 20"

material:

Polycarbonate body and container, stainless steel blade

voltage:

110V

shipping weigh:

8.8 lbs

machine weight:

8.4 lbs

speed:

26000r/min

power kw amp :

1.2 kW (10.9 Amp)

capacity:

2 L
Reviews and Questions