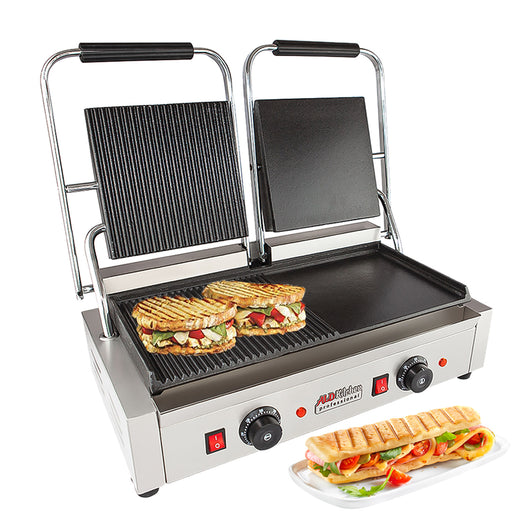 AP-691 Double Panini Press | Half-Ribbed & Half-Flat Sandwich Maker | Cast-Iron Plates | Nonstick Coating | 110V
Double flat and ribbed panini press
If you can't choose between a ridged and a flat panini maker, look at this half-ribbed and half-flat panini press! The machine is equipped with two lids and two temperature control knobs, so you can save energy using only one part when the other one is not required.
Why purchasing this double panini grill?
Maximum versatility
With this double panini toaster, you have the opportunity to use both flat and ribbed cooking surfaces for your food. The grooved press provides "grill" lines on both sides of the food, while the smooth plate ensures complete contact with the food and even heating.
Separate control
Since each plate is operated independently, it is possible to prepare different food with particular cook time and temperature levels. When the production volumes are small, and there is no need in both plates, only one of them can be used with no energy waste.
Nonstick coating
Highly conductive plates get hot fast and evenly. Nonstick coating prevents food from sticking to the plate, making it easier to clean the device after usage. Also, it requires less oil and fat for cooking, which makes the machine great for health-conscious food businesses.
Look closer at this panini press!
✪ EASY OPERATIONS: each thermostat is controlled with an adjustable temperature knob

✪ NO BURNS: both lids are featured with convenient handles, which don't get hot and protect hands

✪ FLAT AND RIBBED: use either flat or ridged half of the machine depending on current needs

✪ EASY TO MOVE: tiny feet keep the device stable during the usage and make it easy to lift when needed
SPECS: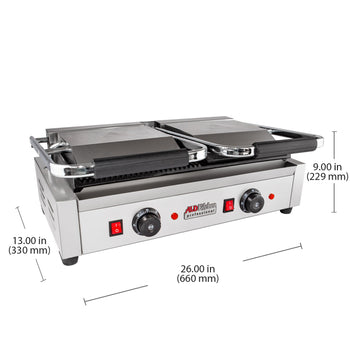 model:

AP-691

machine size:

26" x 13" x 9"

material:

Stainless steel

voltage:

110V

shipping weigh:

56.0 lbs

machine weight:

51.0 lbs

body type:

Panini press

power kw amp :

4.4kW (40 Amp)
Reviews and Questions