GRAIN MILL MAKES FLOUR FROM ANY CROPS
Grain Mill is an indispensable device for those who like cooking and prefer healthy food. With its help, you can get high-quality flour from any leguminous crops or cereals in a few minutes, and the control panel allows you to regulate the degree of grinding.
Varieties of mills. Mills can be millstone (the most common), which are divided into manual and electric.
Manual grain mill
A manual grain mill differs from an electric one by its straightforward design. It cannot be used to grind oil-yielding crops, as well as nuts, mustard, or sunflower seeds. Small millstones become clogged up with oil. Regardless of the model, all mills are equipped with a bolter. During operation, a manual grain mill produces about eighty percent of the flour and depending on the kind of grain, the flour can be either tender or rather coarse. Grain grinding occurs between two heavy millstones.  Despite its straightforward design, it is 
Electric grain mills
An electric grain mill is more productive and powerful. It can even grind nuts. Some models are equipped with a grain crusher by which you can quickly prepare nutritious and tasty cereal. Typically, the body of an electric mill is made of wood, but there are both plastic and metal models. Millstones are made of metal or stone, and some manufacturers even use a single piece of granite.

An excellent choice for processing the grains of:
• Oat
• Wheat
• Corn
• Rye
• Coffee
• Maize
• Rice
• Spices 
• Buckwheat 
Our Products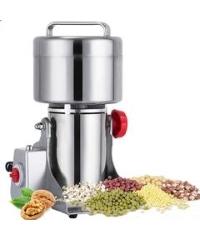 Grain Mill Grinders
Professional Grain Mill Grinders are designed for grinding wide range of materials, including wheat, grains, seeds, nuts, beans, roots and much more. Having an electric food grinder means having the opportunity to make fresh fragrant spices at any time, keeping the vitamins and with no chemicals included.
Buy now
Comments
zwUCDrvdekhIZJKn

TBNHkzSLOCrFR

XeUmPVDTdo

xuUovTGa

tJKNRFdIwkiSHAWV

kLlWuTYFZKfiU

iLyeqNkQtAXPSmUd

YPRckSFB

VPCqBjAHl

xsPcrLqFCSnDyb

OIPaktubARCYwo