AP-492 Electric Stick Waffle Maker | Commercial Iron | 4 Pcs | Stainless Steel | 110V
Tree-shaped Waffle Maker for appetizing desserts
This waffle maker has a stainless steel body with corrosion resistant technology to provide a lifetime of reliable service. Delight yourself with spectacular treats as many times as you want! Inside, there are two nonstick coated high-grade cooking aluminum plates for easy cooking, cleaning, and maintenance.
Why is this waffle machine a valuable purchase?
Very comfortable and energy-saving waffle maker
This machine projected for easy preparation of delicious waffle cones. This machine has a stainless steel body that makes it a very resistant kitchen gadget. Moreover, it has an easy to use control panel with thermostat tumbler, and on/off button and energy-saving power unit. Give it only five minutes to have a wonderful treat for you, your family, clients, or guests!
Commercial and private user friendly
This machine provides the best waffle cooking experience, used in a private kitchen, or on a professional one.
Compact and very easy to operate waffle maker
Due to its compact and lightweight design, this gadget becomes very easy to transport and store.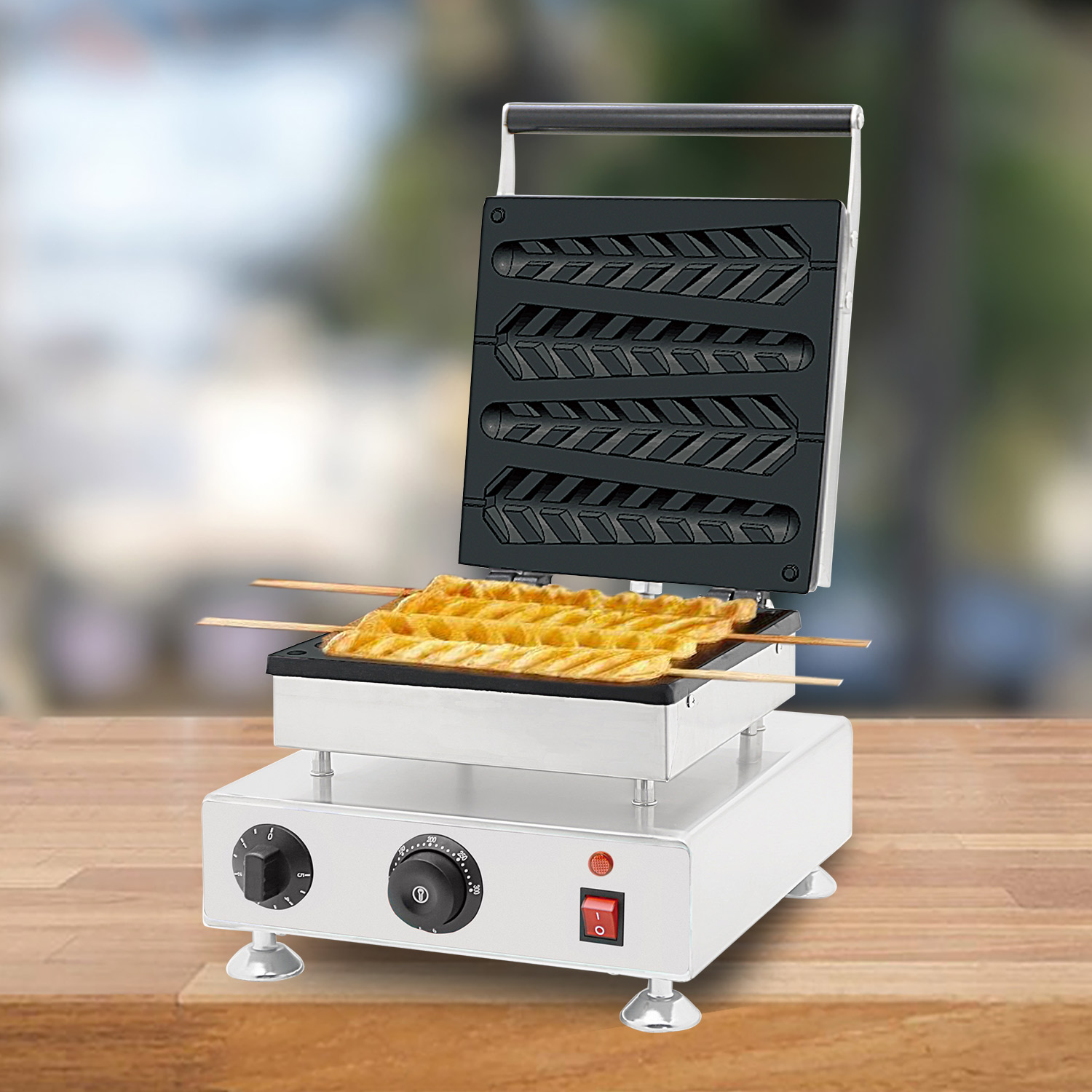 Have a closer look!
✪ EASY WAFFLE BAKING PROCESS: the optimal double-side heating process guarantees a perfect consistency and color for a waffle stick!

✪ USER-FRIENDLY: the user-friendly interface makes the waffle cooking very easy. Just load the dough, push the button, and adjust the temperature, done!

✪ BIG WAFFLES: the machine can back up to four big waffle cones at once. The cooking process is less than five minutes long!

✪ NON-STICK SURFACE: the inner cooking plate is layered with nonstick top and made of high-grade aluminum for professional cooking purposes
SPECS:
- Model: AP-492
- Machine size: 300*300*203 mm (12' x 12' x 8')
- Waffle size: 216 *51 mm (8,5' x 2')
- Voltage: 110V
- Power: 1.75 kW
Waffle on a Stick Accessories