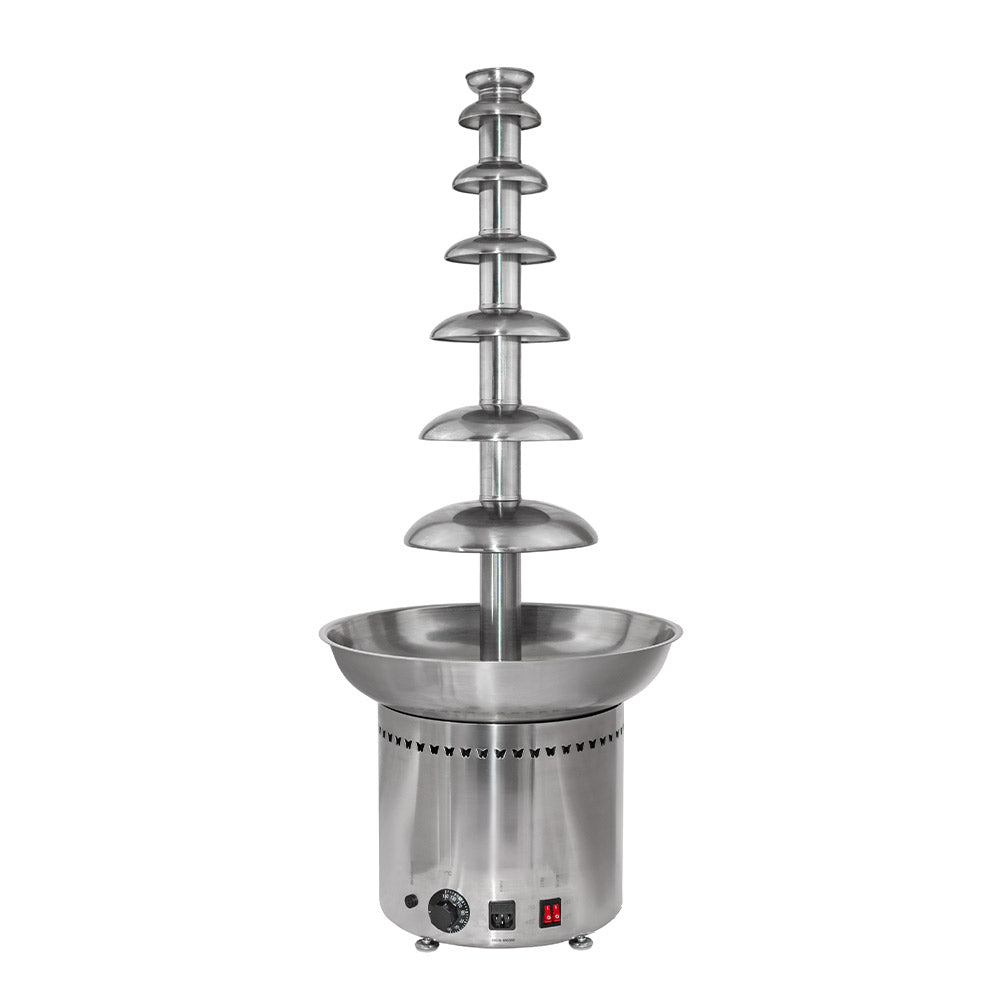 A-CF7M Chocolate Fountain | Stainless Steel Chocolate Fondue Fountain with 7 Tiers | 100 persons | 110V
Chocolate Fountain Fondue for Commercial and Home Use
Due to great capacity of 8 kg, this chocolate fountain with 7 tiers is suitable for big parties and special events. The dimensions are 40.00 x 17.00 inches (1016x432 mm), the heat and motor are controlled independently. This machine is ready to serve more than 100 guests for a few hours.
Why should you choose a chocolate fountain for your event?
Amazing and impressive
This Chocolate Fountain is absolutely "must have" for a wedding, big birthday party or other special event with many guests. Hot chocolate flowing down the tiers is just mesmerizing and mind bending. This fondue will become a highlight of your party and provide the guests with amazing experience.
Easy to set up
A successful location for this Chocolate Fondue Fountain would be any steady surface in the room. Just make sure there is an electric outlet around and enough space for several people to use the fountain simultaneously. After usage, the machine can be disassembled to be cleaned and stored.
Complete self-service
Once the fondue fountain is set up, you can forget about serving desserts to your guests. Just provide them with strawberries, marshmallow, grapes, cheese and other treats to dip into chocolate. Don't forget skewers or toothpicks as well as a rubbish bin near the fountain to keep the space clean.
Take a Closer Look at this Chocolate Fountain!
✪ EASY TO STORE: pieces come apart quickly, so little room is required for storage when the machine is not in use

✪ USER-FRIENDLY: it is convenient to adjust the heating temperature with a knob and a switch button

✪ EASY TO CLEAN: the machine is made of high quality materials and can be disassembled fast for easy cleaning

✪ GOOD CAPACITY: six tiers are just enough to serve all the guests of a middle-sized party or a family gathering
SPECS: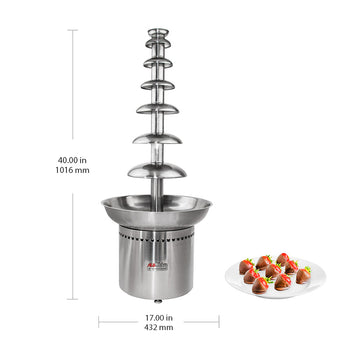 model:

A-CF7M

machine size:

40" x 17.0 x 17.0"

material:

Stainless steel

voltage:

110V

shipping weigh:

31 lbs

machine weight:

31 lb

control type:

Manual

temperature range:

86-300 F

materials:

Stainless steel

power kw amp :

0.3 W (2.7 amp)

tiers:

7 tiers

capacity:

17.63 lb
Reviews and Questions
Chocolate Melting Accessories