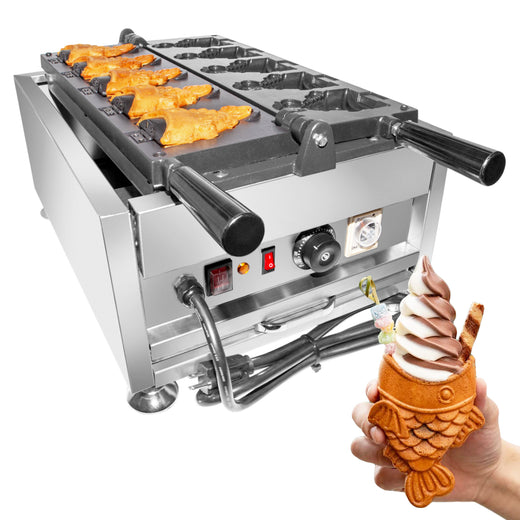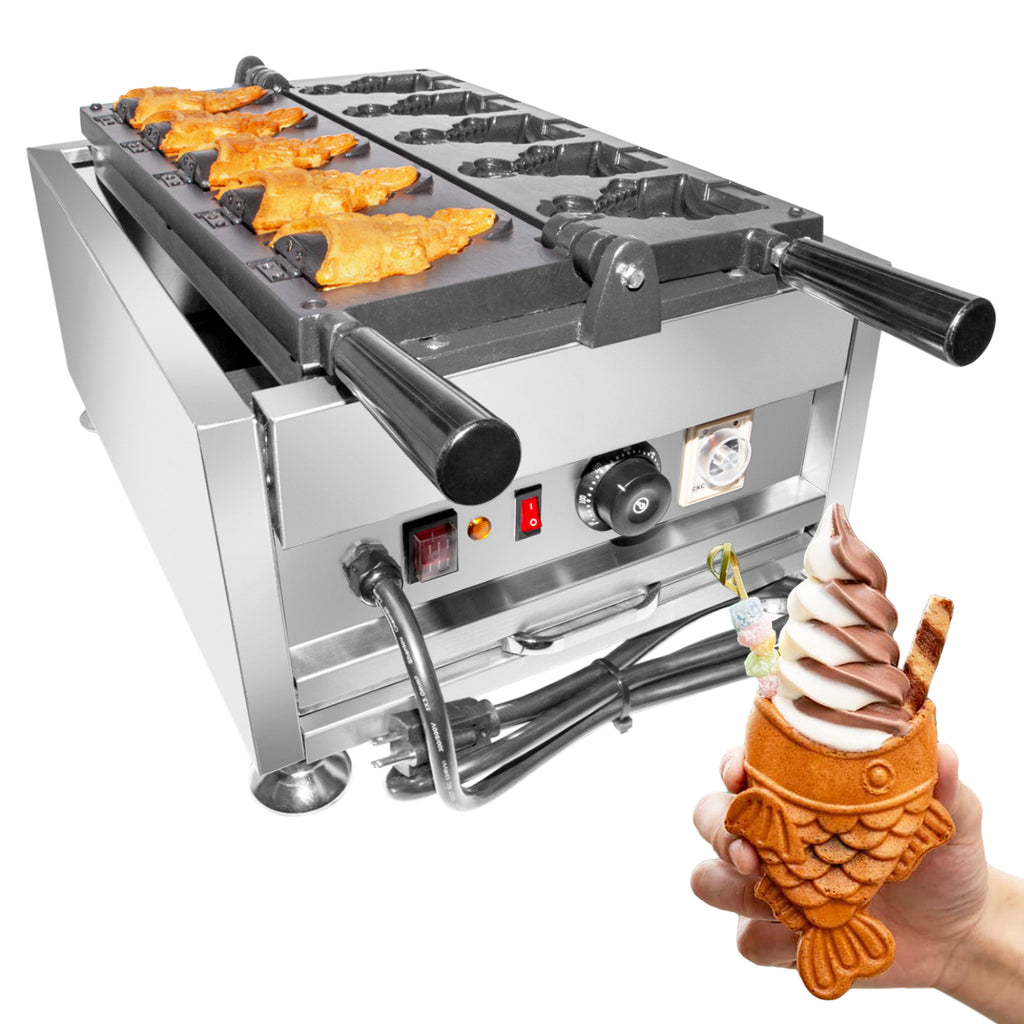 AP-299 Taiyaki Machine | 5 Pcs | Open-Mouth Fish Shaped Waffle Cones | 110V
Fish Shaped Waffle Maker
Make 5 Waffles shaped like a fish with an open mouth known as Taiyaki. With this professional swing-type waffle iron one of the most popular Japanese desserts will be ready within a few minutes. The appliance is featured an in-built timer and a temperature control knob. The power is 2.4kW.
Great Solution for You Food Business
Eye-catching cones
With this taiyaki waffle maker, you can cook perfectly-shaped waffle cones to serve ice cream and other desserts on food courts, malls, and other indoor and outdoor spots. These cones not only look unusual in comparison to classic ones, but they are also delicious and nourishing.
Manual control
All the operations are pretty simple and easy to understand. Start the machine with a switch on the front panel, and adjust the temperature and the timer. By changing the cooking time and heat level, you can regulate the color of waffles from light to rich golden-brown.
Easy to maintain
This waffle maker is made of high-quality materials, that require little effort to maintain. Stainless steel body and nonstick-covered plates are easy to clean, it is enough to wipe with a damp rag after usage. For safety reasons, make sure that the appliance is unplugged and cooled down.
Convenient & Reliable:
✪ PLASTIC HANDLES: with two handles, it is easy to flip the plates and keep your hands safe from burns

✪ WIDE OPENING: each waffle cone is big enough to contain a significant amount of ice cream or other desserts

✪ RESIDUAL TRAY: a removable plate collects fat excess and dough drops while the table remains clean

✪ NONSTICK COATING: highly conductive plates get warm quickly and evenly, ensuring beautiful waffle color
SPECS:
model:

AP-299

package size:

25" x 16.5" x 12"

machine size:

21.7" x 15.8" x 11"

material:

Full stainless steel

voltage:

110 V

shipping weigh:

51 lbs

machine weight:

46 lbs

materials:

Full stainless steel

power kw amp :

2.4 kW (21.8 amp)

product size:

Product size: 4" x 3.15"; opening size: 0.8" x 2.36"

capacity:

5 Fish-shaped waffle cones
Reviews and Questions
Tiyaki Waffle Accessories