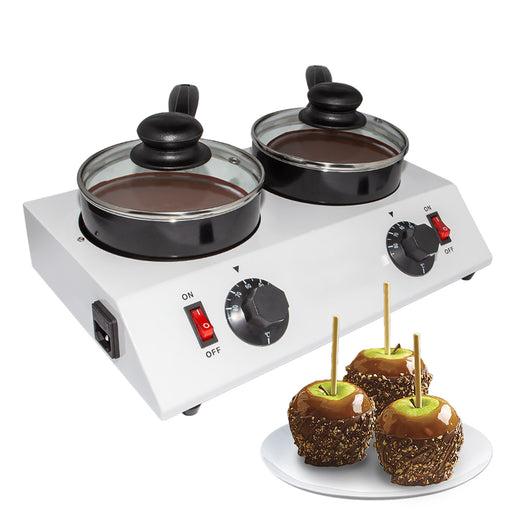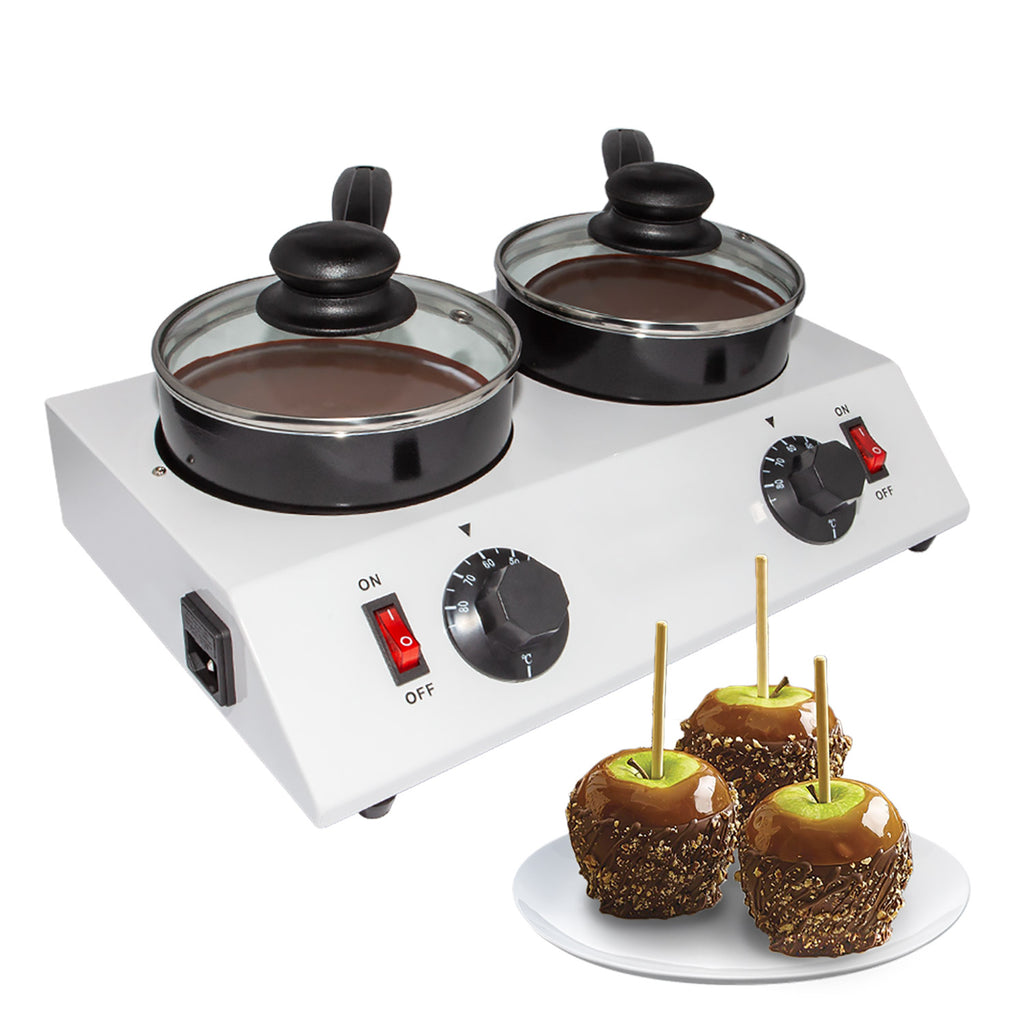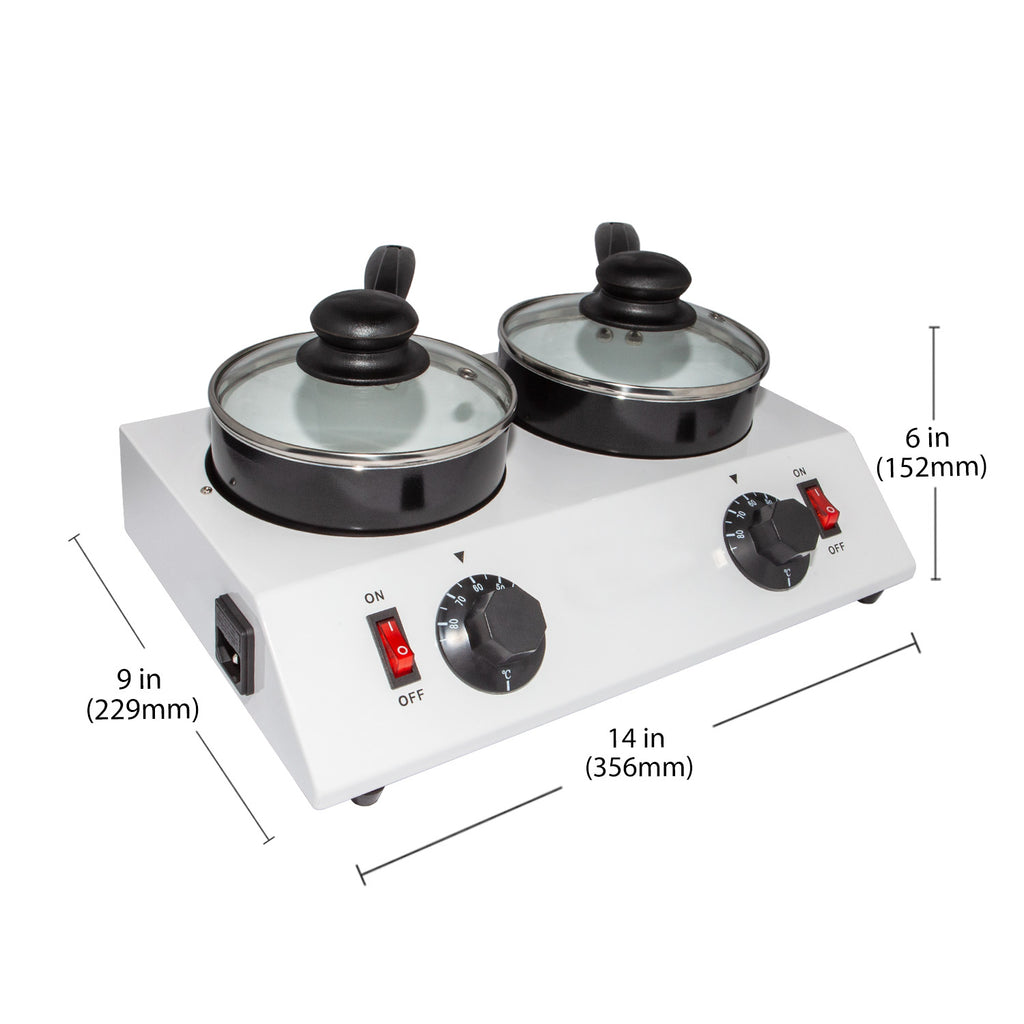 GR-D20048 Chocolate Melting Machine | Professional Tempering Pot | Electric Fondue | 110V
𝐌𝐮𝐥𝐭𝐢-𝐟𝐮𝐧𝐜𝐭𝐢𝐨𝐧𝐚𝐥 𝐟𝐨𝐨𝐝 𝐰𝐚𝐫𝐦𝐢𝐧𝐠 𝐞𝐪𝐮𝐢𝐩𝐦𝐞𝐧𝐭
This kitchen appliance is designed for melting chocolate and other substances like candies, cheese, etc. The double-pot design allows melting up to 4.5 lb (2 kilos) of chocolate simultaneously. The temperature is regulated manually with two independent knobs.
𝐖𝐡𝐲 𝐢𝐬 𝐭𝐡𝐢𝐬 𝐜𝐡𝐨𝐜𝐨𝐥𝐚𝐭𝐞 𝐦𝐞𝐥𝐭𝐢𝐧𝐠 𝐦𝐚𝐜𝐡𝐢𝐧𝐞 𝐰𝐨𝐫𝐭𝐡𝐲 𝐨𝐟 𝐜𝐨𝐧𝐬𝐢𝐝𝐞𝐫𝐚𝐭𝐢𝐨𝐧?
𝐃𝐨𝐮𝐛𝐥𝐞 𝐜𝐚𝐩𝐚𝐜𝐢𝐭𝐲
With two different pots, it is possible to melt and warm two different substances at the same time, or to melt twice as more chocolate as in a single-pot machine.
𝐌𝐨𝐫𝐞 𝐬𝐰𝐞𝐞𝐭 𝐝𝐞𝐥𝐢𝐠𝐡𝐭𝐬
With only this machine, you can substantially increase the assortment of desserts on your menu. Make sauces and toppings for fruits, ice cream, cakes, and other treats your customer love!
𝐓𝐡𝐨𝐮𝐠𝐡𝐭𝐟𝐮𝐥 𝐝𝐞𝐬𝐢𝐠𝐧
Due to its design, the machine is quite easy and enjoyable to use. Every pot is equipped with a plastic handle, which protects from occasional scalds and makes the hot pot easily portable.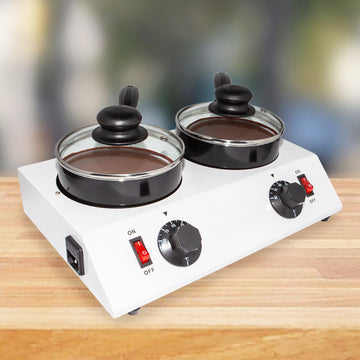 𝐋𝐨𝐨𝐤 𝐜𝐥𝐨𝐬𝐞𝐥𝐲 𝐚𝐭 𝐭𝐡𝐢𝐬 𝐛𝐞𝐚𝐮𝐭𝐢𝐟𝐮𝐥 𝐝𝐞𝐯𝐢𝐜𝐞!
✪ USER-FRIENDLY: control the processes with a turn on/off switch and two temperature knobs

✪ MELTS EVENLY: the pot plates are heated uniformly, providing even chocolate warming

✪ GOOD-LOOKING: the lovely design will make this device looking good in any kitchen

✪ NON-TOXIC: the machine is made of high-quality food-grade materials
SPECS: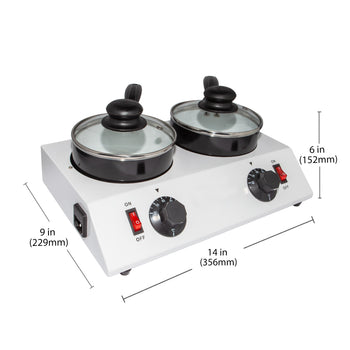 model:

GR-D20048

machine size:

14" x 9" x 6"

voltage:

110V

shipping weigh:

9.2 lb

machine weight:

7.2 lb

control type:

Manual

temperature range:

86-185 F

materials:

Stainless steel

power kw amp :

0.4 W (0.36 amp)

capacity:

double

productivity:

5.2 lb
Reviews and Questions
Chocolate Melting Accessories