GR-D6 Mini Donut Maker | 6 Circle Donuts | Electric Donut Making Machine | 110V
Slim-Fit Commercial Donut Maker
This commercial 6-hole babycakes donut maker is made of stainless steel with cast aluminum plates. The power consumption is 1.55kW. This elegant and compact appliance with manual temperature control system suits small commercial kitchens, perfect for indoor and outdoor use.
The advantages of this mini donut maker:
Small Size
This mini donut machine is the perfect solution if your kitchen is not big enough for a large counterpart. Enjoy the great performance and high quality of the final product without taking much storage in the kitchen.

Versatility
Due to its size, the machine becomes easily portable, which allows you to serve donuts indoors and outdoors. The appliance suits small food businesses and startups.

Easy Cleaning
This commercial donut waffle maker requires little effort to maintain and keep clean. Just wipe it with a damp rag after usage. With proper upkeep, the nonstick coating and the machine body will look good for years.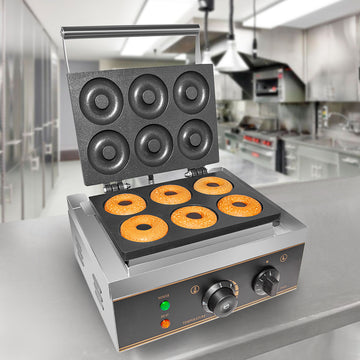 More details:
✪ USER-FRIENDLY: all the operations are manually controlled with a few knobs on the front panel

✪ EVEN HEAT: double-sided heating provides uniform cooking and the beautiful color of each donut

✪ NO SCALDS: a long handle on the upper pan ensures safe machine usage without burns and scalds

✪ RESIDUAL TRAY: a removable drip pan collects the excess fat and prevents oil drip on the table
SPECS:
model:

GR-D6

package size:

12" x 14" x 10"

machine size:

10.6" x 13" x 9"

material:

Stainless steel

voltage:

110V

shipping weigh:

22 lbs

heating type:

Electric

control type:

Manual

temperature range:

122-572℉

power kw amp :

1550W (14.1 Amp)

cooking time:

1-5 minutes

product shape:

Circular

product size:

2.8" x 0.8"

productivity:

6 Donuts
Reviews and Questions
Donut Accessories