Special Offer
AP-107 Obanyaki Maker Commercial | 32 Pcs | Three Thermostats | Gas Type
Japanese Bean Cake Maker
This professional machine makes a popular Japanese snack known as imagawayaki. An appliance with 32 baking molds is perfect for extensive use in bars, street food points, and other commercial kitchens. With a minimum of control knobs, the operations are easy and comprehensible.
Why having an obanyaki maker is good for your business?
Easy to cook
To cook these small stuffed cakes, you will need a specially designed plate with circular molds. With our imagawayaki machine, you will make more than a dozen of obanyaki simultaneously. Spend a few minutes and serve several customers right away!
Sweet & Savory
Despite obanyaki were originally stuffed with sweet red bean paste, which is extremely popular in Japan, now these small cakes are filled with vanilla custard, chocolate, or even meat or potato. Add whatever your customers wish!
Nutritive Snack
Obanyaki is a convenient solution for someone who is in a hurry and needs to grab a bite on the go. Each snack is quite thick, and with its nutritive filling, it is enough to take one or two to forget about hunger for another couple of hours.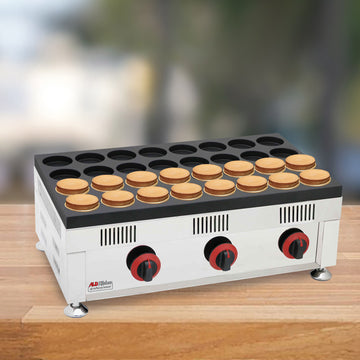 Highly productive & Convenient:
✪ NONSTICK PAN: the baking molds are covered with Nonstick coating, preventing the dough from burning

✪ STABLE FEET: the machine is equipped with strong tiny feet which keep it stable on the tabletop

✪ COOLING VENTS: small holes on both sides keep the machine cool and prevent it from overheat

✪ MANUAL OPERATIONS: the heat level of the baking plates is regulated with three bright knobs
SPECS: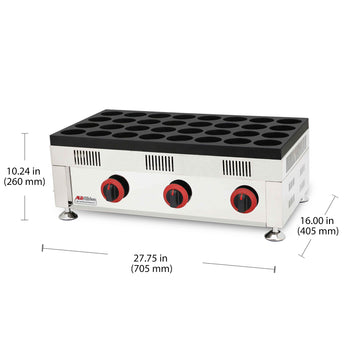 model:

AP-107

package size:

11" x 30" x 20"

machine size:

10" x 28" x 16"

shipping weigh:

46 lbs

machine weight:

44 lbs

heating type:

Gas

materials:

Stainless steel body, aluminum plate with Nonstick coating

power kw amp :

Gas pressure: 2800 pa

productivity:

32
Reviews and Questions
Obanyaki Accessories