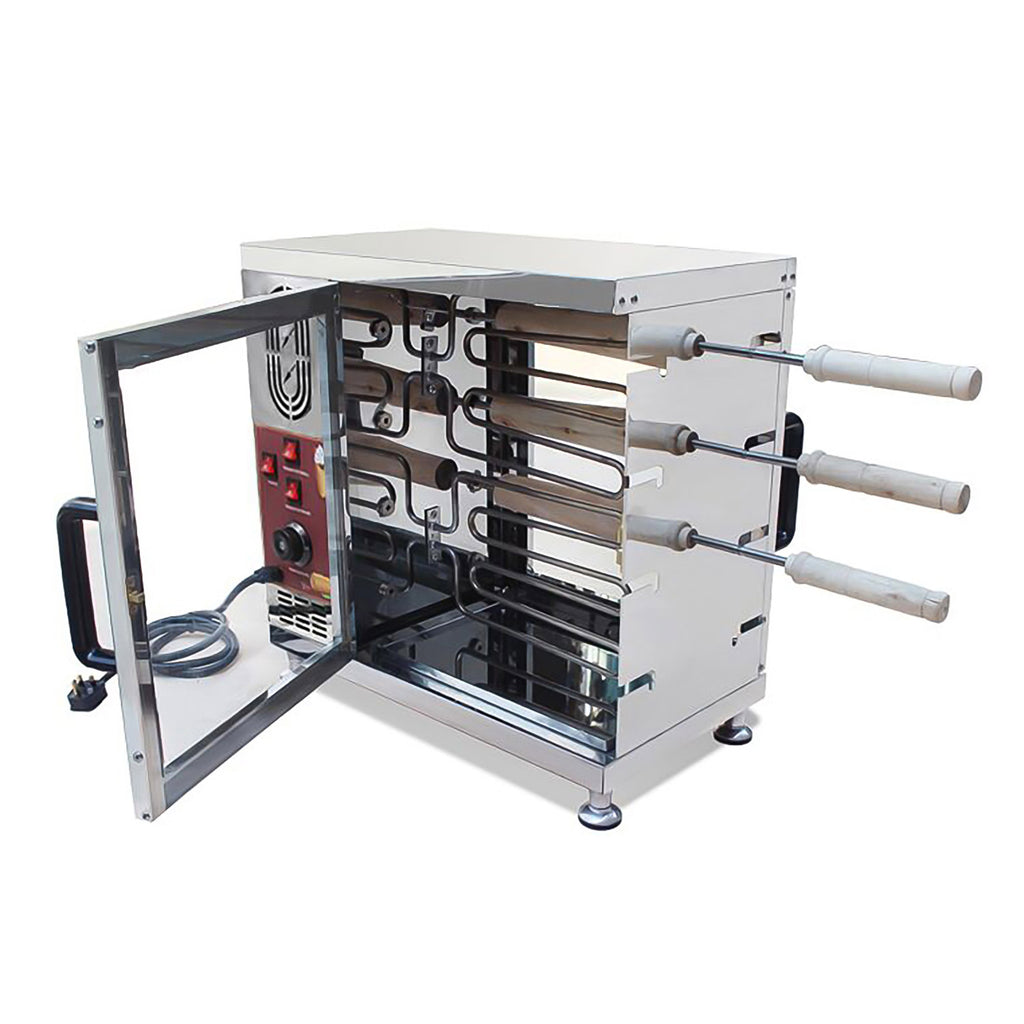 AP-21 Chimney Cake Maker | Electric Chimney Waffle Roller | 8 PCS | Stainless Steel | 110V
Chimney cake machine for commercial use
This chimney cake oven will be a great addition to any bakery. The machine is capable of making up to 8 cakes at a time. The construction is stainless-steel with glass doors, making the baking process fully visible. Wooden rollers of various shapes are durable and clean.
Why is this Kurtos Kalacs machine worthy of having?
Various tastes
While this soft spiral pastry is delicious itself, there are plenty of fillings it can be stuffed with. There are hits like ice cream, Nutella, peanut butter, or fruits, but in reality, the variety of tastes is only limited by your imagination.
Minimum of efforts
As soon as you wrap the dough around the wooden rollers, put them into the oven and press a rotary switch. Then you just have to wait for 15 minutes, while the handles rotate automatically, and the bread is baked evenly.
Durable materials
The oven is made of stainless steel, known for its reliability and corrosion-resistant properties. Moreover, it is easy to clean and maintain. Non mentioning stainless steel keeps a good look for years.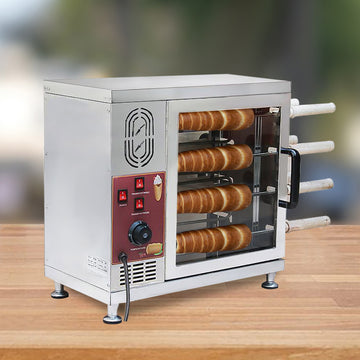 Look closely to this grill chimney!
✪ USER-FRIENDLY: the machine is operated by a power switch, automatic rotary switch and a temperature knob

✪ WOODEN ROLLERS: wooden molds of different shapes are safe, durable and non-toxic

✪ FULL VISIBILITY: glass doors from both sides allow to see the process of chimney cakes baking

✪ VERTICAL HEATER: the vertical design of the heating tube ensures that there won't be any burning drops
SPECS:
model:

NP-21

machine size:

21.25" x 21.65" x 11.61"

voltage:

110V

shipping weigh:

101 lbs

control type:

Manual

power kw amp :

3.2 kW (29.1 Amp)

product shape:

Chimney cake

productivity:

8 Pcs
Reviews and Questions
Chimney cake Accessories