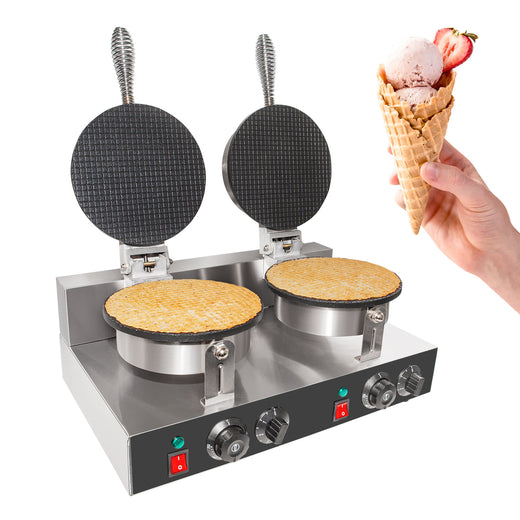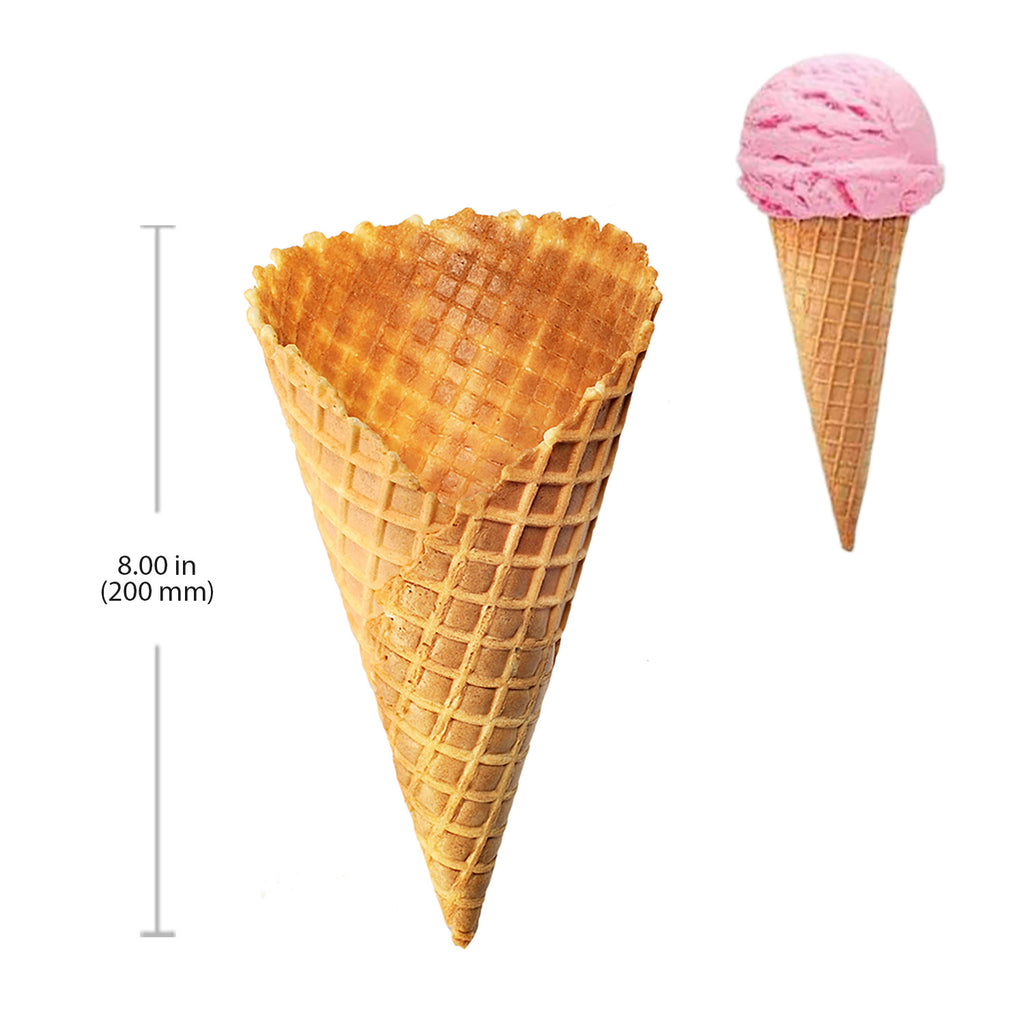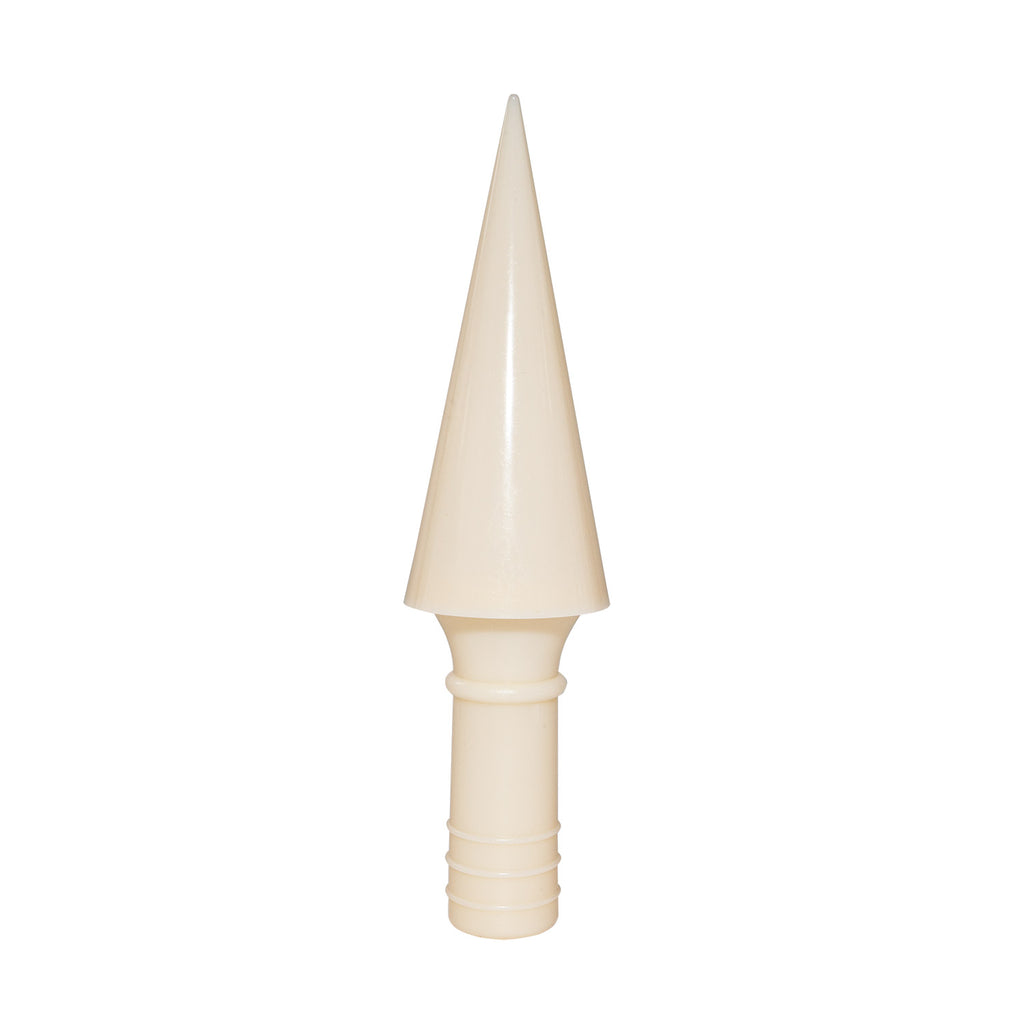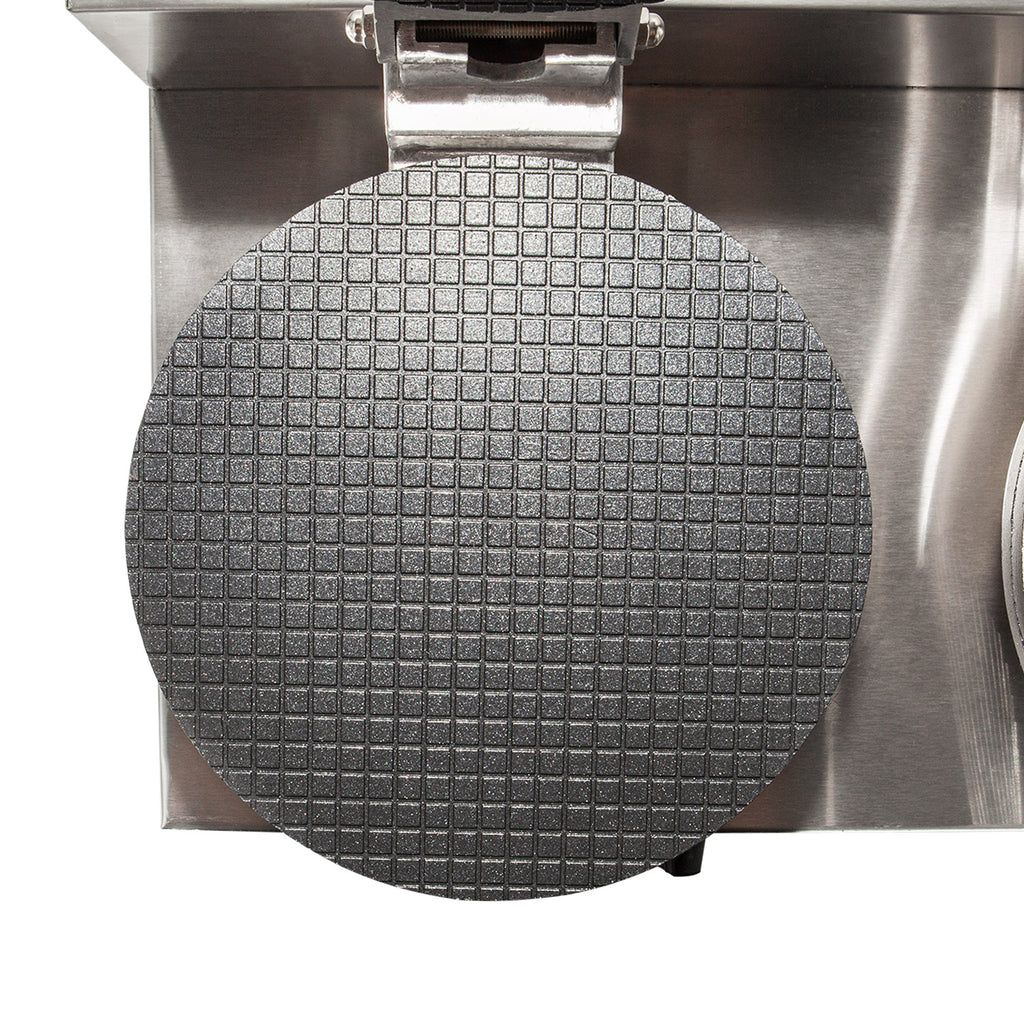 GR-XCXG2 Waffle Cone Maker | Commercial Double Ice Cream Waffle Cone Maker | Stainless Steel | Nonstick | 110V
Crispy Waffle Roll Iron for Commercial Use
If you are looking for a waffle cone iron with double capacity, this machine could be a solution. This Commercial Waffle Roll Maker is designed to make two large ice cream cones or waffle rolls at the same time. Nonstick coating, high grade materials and convenient control make this machine safe and reliable. The dimensions of this ice cream cone maker are 20.00" x 12.50" x 10.50" (508 x 317 x 267 mm), and the cone diameter is 8.00" (200 mm).
Take a Closer Look At This Cone Waffle!
Versatile and practical Initially this
Waffle Cone Iron is designed to cook crispy ice cream waffle cones. Nevertheless, you can also cook waffle rolls and serve them with different fillings or without, they will remain delicious anyway. Due to a double pan, the turnover is twice higher than with a standard single-pan machine, so you can serve your customers faster.
Perfect addition to ice cream
What makes a waffle cone perfect to carry an ice cream is that you don't have to use any additional flatware like plastic plates or spoons, which you need to throw away later. Producing no waste and being the most convenient way to carry a dessert, waffles cones are absolutely must have for businesses which sell ice cream.
Variety of flavors and great appearance
It is impossible to count how many flavors of ice cream already exist. Nevertheless, you can also add some additional flavor even to ice cream cone by dipping its edge into chocolate, caramel or peanut butter. Add some color sugar strands to make a cone really eye catching, especially for kids. There are endless opportunities to impress your customers with an ice cream decoration.
Take a Closer Look At This Cone Waffle!
✪ STAY-COOL HANDLE: spiral design of handles helps to prevent slipping, overheating and occasional burns

✪ USER-FRIENDLY: the machine is easily operated with two switch on/off buttons and temperature control knobs

✪ CONE ROLLERS: the cone rollers are sold together with the appliance for fast and convenient ice cream cones production

✪ EASY TO CLEAN: the cooking surface is absolutely nonstick, which makes the machine easy to clean after usage
SPECS:
model:

GR-XCXG2

machine size:

20.0"x12.5"x10.5"

material:

Stainless steel

voltage:

110V

machine weight:

30.8 lb

body type:

Press

control type:

Manual

temperature range:

120-570°F

materials:

Stainless steel

power kw amp :

2.4 kW (21.8 amp)

cooking time:

3 min

product shape:

Cone

no of products:

2

product size:

8"
Reviews and Questions
Cone Waffle Accessories