NP-503R Stick Waffle Maker | 6 Waffles on a Stick | Nonstick Plates | Manual Operation | 110V
Enlarge your restaurant's menu with Waffles on a stick!
Stainless-steel press-type waffle machine cooks six waffles shaped as a Christmas tree simultaneously. Every piece is perfectly baked and smoothly released due to the nonstick covering of cast iron plates. This snack is served on a skew and thus is convenient to take away.
Benefit from this Waffle Iron!
Great capacity
Being able to make six waffles at a time, you can serve the more significant number of customers faster, thereby increasing turnover. Another advantage of high capacity is that you save energy while cooking delicious waffles on sticks batch after batch.
Smooth release
Thank nonstick coating the waffles can be released quickly from the grates, and no dough remains stick to the surface. Just open the lid slowly and accurately, make sure the waffles are ready. If needed – cook for a few minutes more.
Mouthwatering snack
These tree-shaped waffles perfectly pair with different sweet toppings, such as jam, ice cream or chocolate. They are nutritive, delicious and simply beautiful. No doubts your customers will love them!
Take a closer look at this Waffle Stick Maker!
✪ PRESS TYPE: with a press type mechanism easily lift and lower the lid to bake waffles


✪ SMALL OPENINGS: the skews are inserted through specially designed tiny holes

✪ CLEAN TABLE: the residual tray around the plate collects any dough drops

✪ NON-STICK: Nonstick coated of the surface helps to avoid burnings and ensures beautiful color
SPECS: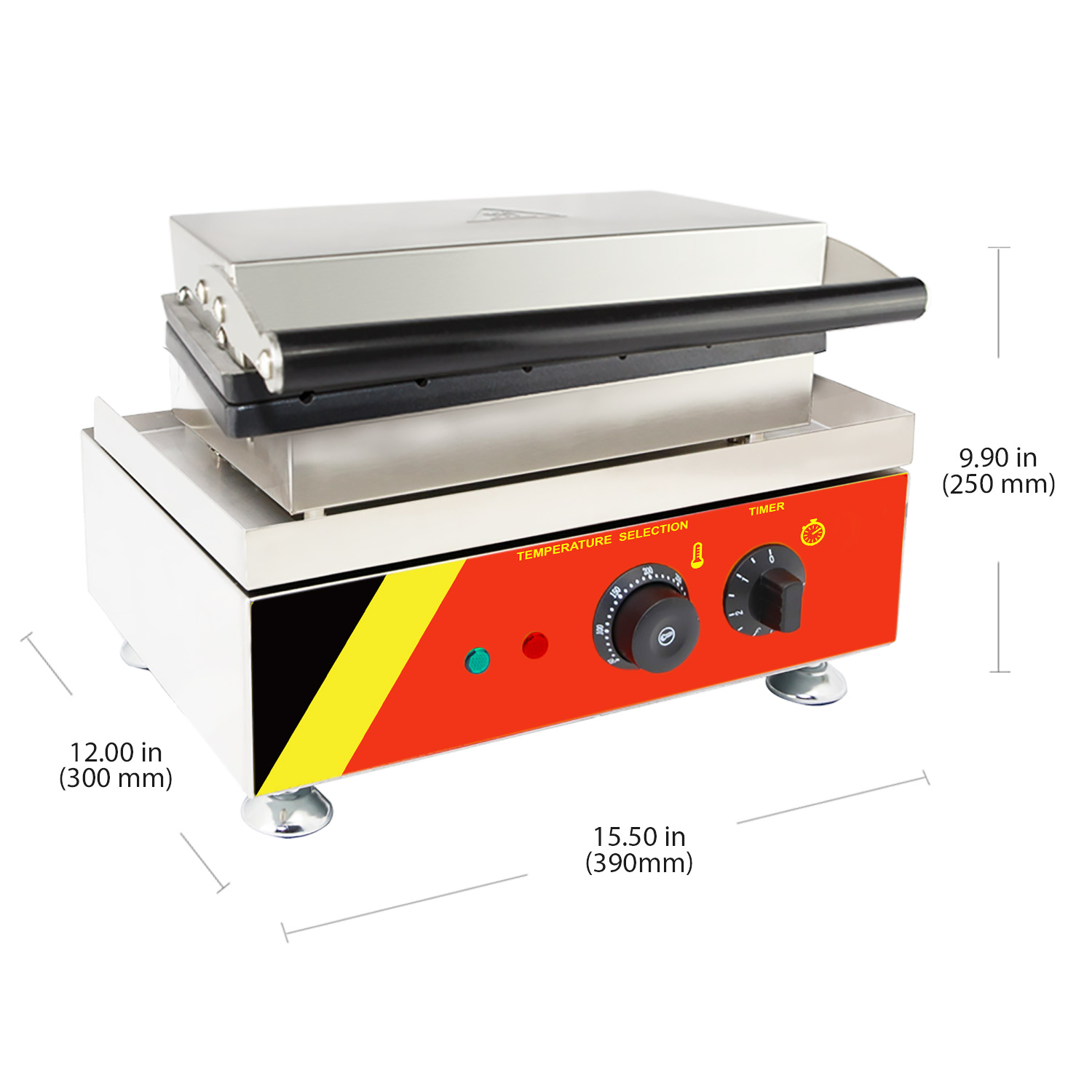 - Model: NP-503R
- Package weight: 12,7 kg (28.7 lb)
- Machine weight: 10,9 kg (24.3 lb)
- Machine size: 300*390*250 mm (12' x 15.5' x 9.9')
- Waffle size: 110*43 mm (4.5' x 1.7')
- Voltage: 110V
- Power: 1500W
Waffle on a Stick Accessories